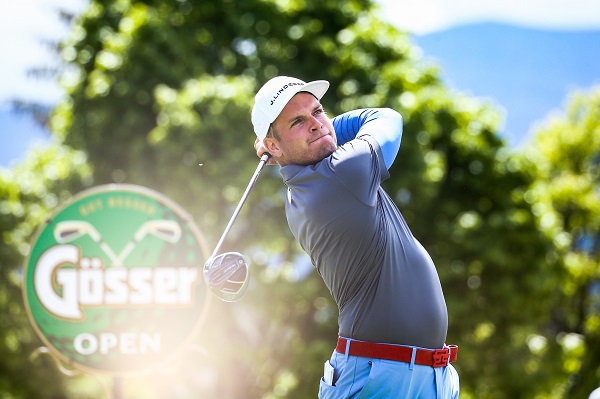 17th May 2019 | Alps Tour Golf
Gösser Open, Cianchetti and Neumayer go head-to-head into final round
17 May, 2019 – Maria Lankowitz (Aut) – The 27th edition of Gösser Open is meant to experience a thrilling final day, when Italian Luca Cianchetti – leader after first round – and Austrian Bernard Neumayer, tied at minus 12, will go head-to-head hunting for the coveted title and the cheque of 6,162 euros for the winner.
Neumayer, 28, was able to catch Cianchetti on top of the leaderboard with a 68 (-4), in spite of two bogeys (on holes 8 and 14): "It is the first time that I play in the final group in an Alps Tour event – he said –my goal is to get the lead soon and don't let anybody else approaching me. I had two 3-putts today, but I've played solid golf from tee to green; tomorrow I will need to keep the 3-putts away and hopefully it will be a good round! I'm sure that there will be a lot of spectators and I'm really looking forward to it".
Yesterday Luca Cianchetti, 23, not only shot his personal record – 63 (-9) but also tied the course record of Golfclub Erzherzog Johann, first signed in 2005 by Thomas Feyrsinger and again by Claude Grenier in 2011, both during those years edition of Gösser Open; today, the winner of the Katameya Open last March was not as consistent, and after leading for most of the afternoon and reaching -14 after hole 10, he then slipped with 2 bogeys on par 5s: "The first 10 holes I played well from tee to green, I had two eagles – on hole n. 1 and 9, two birdies and one bogey-5 – maybe the putter was not as faboulous as yesterday, but I've made some clutch putts; then on the back nine I've started to loose a bit of focus and made those two bogeys, but in all I'm quite satisfied, I've been playing under par for a while and this is always a good sign. Tomorrow I might feel some pressure in the beginning, but I will try to play at my best, and let's see".
The best card of the day was returned by English amateur Jack Floyyd, who shot 64 and is now in third position just one stroke back of the leaders (133, -11); in fourth position are two players tied at -10: another impressive amateur, Frenchman Jeong Weon Ko, and local hero Lukas Nemecz, winner of this tournament in 2017.
The cut fell at -4, leaving 55 players in the field for the final day ; among them 7 amateurs, who will not compete for the prize money, 42,500 euros.
Golfclub Erzherzog Johann in Maria Lankowitz, near Graz, has been hosting the Gösser Open since 1993, seven years before the birth of Alps Tour itself.
In its Roll of Honour, some prestigious names as European Tour players Markus Brier (1994&1995), also in the field in this edition as well as Martin Wiegele (2008), then Gordon Manson (1998, '99, 2001, 2003), and more recently, English star Matt Wallace (2016), and local hero Lukas Nemecz (2017), who is in contention for a second title this year.
The 8th tournament on the 2019 Alps Tour season is promoted by the Murhof Gruppe (www.murhofgruppe.at) and can count on the support of partners such as Gösser Beer, Antenne Steiermark, Kleine Zeitung, Lipizzaner Heimat, Gepa Pictures, Steiermärkische Sparkasse, www.golf.at, Maria Lankowitz Wallfahrtsort Freizeitparadies.
Second round results: click here
Final round draw : click here
Stay tuned! www.alpstourgolf.com and the app « Alps Tour Golf » (on App Store for iOS devices and Play Store for Android) will keep you updated on every news about Alps Tour.
Instagram @alpstourgolf
Facebook @Alpstourgolf Satellite
Twitter @AlpsTourGolf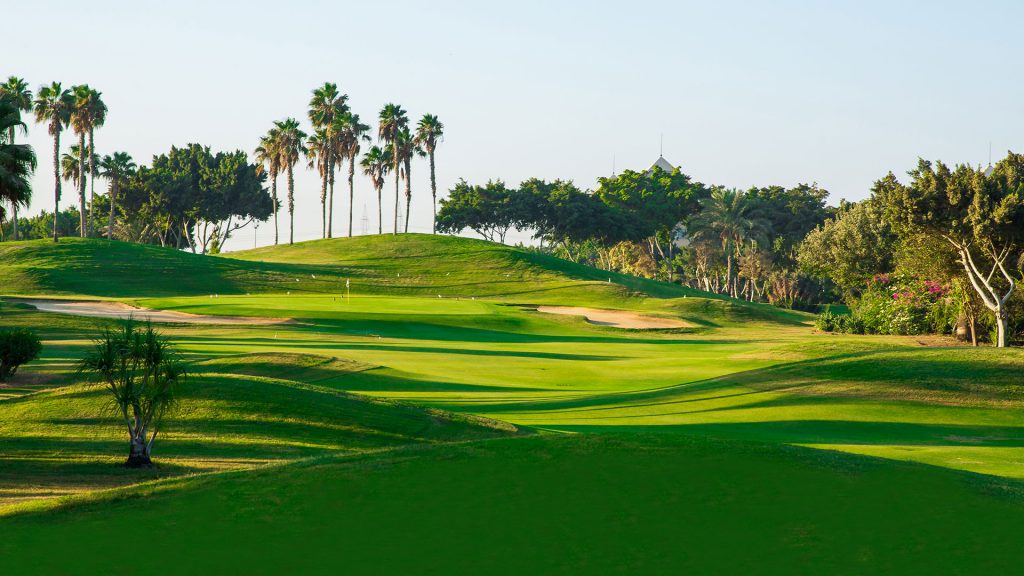 23rd March 2019 | Alps Tour Golf
Egypt & Pyramids on stage for the Second Swing of the Winter Series
In a couple of days, the Alps Tour schedule will rhyme with great golf and spectacular views on Egyptian pyramids. After a three-weeks break, our Rising Stars are gathering again for the Second Swing of the Winter Series: three tournaments in a row, played from March 25th to April 6th, with a field of 132 players for each venue; three different courses around Caire, with breath-taking sights of the pyramids: Dreamland Pyramids Open from 25 to 27 March on Dreamland GC, New Giza Open from 30 March to 1 April on New Giza GC – a new spectacular venue inaugurated last October – both on the West side of Cairo; and Katameya Dunes Open from 4 to 6 April, on the Lakes Course of Katameya Dunes (a Sir Nick Faldo's design), on the East side of the Egyptian capital.
Our players are coming from all over the world, literally, with 19 nationalities represented, to test two courses for the first time, New Giza and Katameya, which are new additions to the Alps Tour schedule, while Dreamland is an « old friend » of Alps Tour, having hosted one of our tournaments the last time back in 2016, when our most brilliant rising star – Matt Wallace – won the first of his six titles of that year and started his stellar career towards Challenge and European Tour, where he is now 10th in the Race to Dubai.
All of the hottest players of the moment are already at Dreamland Golf Course, looking to accumulate points and high rankings from the start of the season; all eyes are on the first two winners of 2019, Frenchman rookie Frederic Lacroix, 24, and more experienced Englishman Ben Wheeler, 26, but also Italian Edoardo Lipparelli, 22, looks in great shape having just won the French Qualifying School with a large margin – 6 strokes – over Spaniard Xavi Puig Giner, and 8 strokes over fellow compatriot Michele Cea: they will all be admitted to play the four Challenge Tour events hosted in France this year, and of course they're all in Egypt competing in the three Alps Tour tournaments, which boast a 40,000 euros prize money each.
The venues
DREAMLAND PYRAMIDS OPEN, 25-27 March
The Dreamland Golf Course is a world class facility located just a few minutes away from the Great Pyramids. The layout of the course was designed by the world renowned architect, Karl Litten and in 2010 the course was redesigned by popular Irish architect David Jones. At present it consists of 36 beautifully manicured challenging holes. The Championship Course in total measures an impressive 7,205 yards that can be played from five sets of tees, as well as a floodlit driving range. http://dreamlandgolf.com/
NEW GIZA OPEN, 30 March-1 April
The highly anticipated New Giza signature golf course is well worth the wait. The 200-acre, 18-hole designer golf course is designed by award-winning Thomson, Perrett and Lobb and seamlessly melds the natural terrains creating an inspiring environment for all players, professionals and amateurs alike. Teeing off with views of the Great Pyramids of Giza is no longer a fantasy. As a particularly exquisite touch, the course is surrounded by a 4km walkway encouraging people to walk for health and leisure.
http://www.newgiza.com/life#golf-clubs-6-october-newgiza
KATAMEYA DUNES OPEN, 4-6 April
Created by nature – designed by golfing legend Sir Nick Faldo. Katameya Dunes is a masterpiece of golf course design, from the spectacular to the subtle. Katameya Dunes comprises the Lakes Course (7,435 yards) and the Palms Course (6,767 yards), with five tee positions to provide a challenge suited to any standard of golfer, from the beginner to the mid-handicappers and tour players. The rolling fairways, spectacular views from elevated tees and the challenge of raised greens are just part of the golfing experience at Katameya Dunes. As the unbroken sunshine sparkles off lakes and fountains, take your golfing enjoyment to a new level. http://www.katameyadunes.com/
Click here for the field of the Dreamland Pyramids Open
Click here for the field of the New Giza Open
Click here for the field of the Katameya Dunes Open
Stay tuned! www.alpstourgolf.com and the app « Alps Tour Golf » (on App Store for iOS devices and Play Store for Android) will keep you updated on every news about Alps Tour.
Instagram @alpstourgolf
Facebook @Alpstourgolf Satellite
Twitter @AlpsTourGolf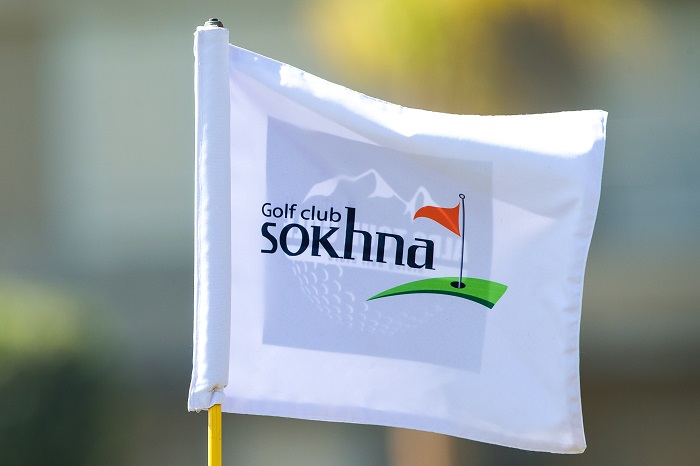 16th February 2019 | Alps Tour Golf
The Alps Tour Winter Series kicks off in Egypt
120 players of 20 different nationalities are sharpening their tools for the opening tournaments of the 2019 Alps Tour season, kicking off next week in Egypt with the first part of the Winter Series, Ein Bay Open and Red Sea Little Venice Open, on the North shores of the Red Sea.
Italian Michele Cea will be defending his Ein Bay title on Sokhna Golf Course, while Englishman Jack Singh Brar, winner of last year's Red Sea Little Venice Open, is now off building his brilliant career on the Challenge and European Tour, but both Austrian Bernard Neumayer and Italian Federico Zucchetti, second and third respectively in 2018, will be again in Sokhna aiming to improve their records and trying to grab the €5,800 cheque for the first prize.
Egypt has been welcoming the start of Alps Tour seasons for seven years now, and Sokhna Golf Club, with its beautiful resort and its 27-holes golf course, has already proved to be the perfect venue for assigning the first two titles of the year and the €40,000 prize money at stake for each of the two tournaments.
Ein Bay Open is set to start next Tuesday, 19th February, and will be played on three days and 54 holes on Sokhna Golf, B and C Course; after the second round, the top 40 pros and ties will go on playing for the title and for sharing the prize money; same format for Red Sea Little Venice Open, played on courses A and B from Monday 25th to Wednesday 27th February. In between, on Friday 22nd February, the Alps Tour Sokhna Pro Am, with 26 teams playing on A+B courses.
Egypt will host also the second part of the Winter Series with three tournaments in a row, played from March 25th to April 6th on three different courses near The Caire and the pyramids : Dreamland Pyramids Open on Dreamland GC, New Giza Open on New Giza Gc – a new spectacular venue inaugurated last October – and Katameya Dunes Open, on the Lakes Course of Katameya Dunes.
The venue
"Sokhna Golf Club" (SGC) is a joint venture between two of Ain Sokhna's leading golf resorts Little Venice Golf Resort, part of Hassan Allam Properties (HAP) portfolio and EINBAY, part of Galalah Touristic Investments Company. These two well-known developers joined forces to create a fantastic new golfing heaven in Ain Sokhna.
"Sokhna Golf Club" (SGC) is only one hour drive from Cairo and features a 27-hole Championship Golf Course designed by renowned golf course designers, John Sanford and Tim Lobb, The course is built entirely to international specifications, with gently undulating fairways, perfect putting surfaces and well placed lakes and sand traps. It's simply a "must play" golf course. The outstanding course is also situated just a minute walk from the sandy coastline of Ain Sokhna, the location aims for a perfect stay for the entire family.
For more info, http://sokhnagolfclub.com/
Instagram @alpstourgolf
Facebook @Alpstourgolf Satellite
Twitter @AlpsTourGolf
15th September 2016 | Alps Tour Golf
Lauro Golf holds the Alps Costa del Sol
Today starts the Alps Costa del Sol at Laura Golf Resort in Alhaurin. Borja Etchart, defending champion is in good form and will be part of the favourites.
Three of the current Top 5 of the Order of Merit, France's Victor Perez – winner of the Alps de Las Castillas 2016 – and Franck Daux, and last week winner, Federico Maccario (Italy) will battle for the victory.
Alps Costa del Sol is the penultimate tournament of the season, qualifying for the Grand Final in October. All players are focused to gain or keep points to obtain one of the five cards to the Challenge Tour the next season.
122 players including 53 Spaniards look for a victory or a podium which could change their future. Among the national players, Borja Etchart comments: "I am eager to play here. In recent weeks I played very well and I would love to do well this week. I am very happy to return to Andalusia to compete. Summering in Andalusia since childhood and I feel something special for this land. I have been preparing the season and the goal is to get the European Tour card I had four years ago. Lauro Golf tournament is special for many things. It is the penultimate tournament schedule and there is much at stake. In addition, in August there was a break in the schedule and all the players are well prepared for this final straight."
Gabriel Canizares, Alfredo Garcia-Heredia, Jordi Garcia del Moral, Sebastian Garcia, Carlos Rodiles, Javier Ballesteros, the Senior Juan Quiros or Jesus Legarrrea are some of the rivals this week.
The Alps Costa del Sol will distribute 48,000 € of prizes and will count for the World Ranking, as all other Alps Tour events. After the first two rounds, the top 40 and ties will qualify for two other rounds.
This tournament receives the support of the Tourism Office Costa del Sol, Turismo y Deporte Andalucia, the Royal Spanish Golf Federation, the Sports Council and the Royal Federation of Andalusia. Reale, Solan de Cabras an,d Kyocera complete the private sponsorship. Thanks to the promoter, JGolf18 too!
2nd July 2016 | Alps Tour Golf
Matt Wallace won fifth trophy in Open Frassanelle
England's Matt Wallace won his fifth tournament in five events he attended. He shot final round 65 to win by 4 shots -17 total. France's Victor Perez finished second on his own and David Morago of Spain third one shot further.
When you arrived in Italy, what was your plan ?
Plan was to prepare as well as possible. I arrived on Wednesday around lunch time so couldn't play the course but I knew it and I asked a few people if anything had changed for last year. I few new tee boxes but that was all that was new. I played well last week at cinque ports for open quali so I wanted to keep the momentum going.
Could explain the improvement of your golf and mental during the past 3 months..?
I've learned mentally how to deal with grinding out scores when not playing well. I didn't play great on the second day for the first 10 holes but was still -2 and finished strong for -6. Also how to deal with being in the lead. I sleep a lot better and play better in this position from the past few years.
How does your experience on European Tour helped you this week?
Playing in Sweden and Austria helps to know what level I need to be at to compete. I'm working towards it and looking forward to the next chance I get. I'm using my experience of those events as motivation because it was so much fun.
21st February 2016 | Alps Tour Golf
Big guns, Colombo (pict), Jones and Wallace to lead in Cairo
Big guns took commands in Dreamland Pyramids Open. Former European Tour player, Italy's Federico Colombo and last week, respectively runner up and third Matt Wallace and Andrew Jones fired -5 in tough weather conditions.
Among the 3 leaders, only Colombo had the chance to tee off this morning in a quiet atmosphere. He holed 4 birdies and one eagle on the 15th as he only dropped one shot on par three 4th. Jones and Wallace confirmed their good form of the last week. Despite strong gusts of wind in the afternoon, they both managed to score 67 and Jones signed for flawless card.
France's Raphael Marguery is one shot back. The Frenchman did begin his journey in Egypt with a very bad joke for the airlines company, his bag was delayed. He first borrowed some clubs then eventually got back his own set. He scored 68 without any dropped shot.
The projected cut is +2. Same weather conditions forecasted for second round.
14th October 2015 | Alps Tour Golf
Maiden win for Angles in France
Spain's neo pro Pep Angles won his maiden title thanks to final round 69, -4 to go to -11 total. The Open International du Haut-Poitou was his event since he turned pro last week. He finished one stroke clear of Dutch Darius Van Driel.
The final round started with a little hour delay due to dense fog over Saint Cyr Golf Course. The overnight leaders – four- had very different final round and the spectators realised that the show was on the second last group. Damien Perrier in the last group admitted it was a bit frustrating.
"At the beginning of the round, they were about hundred to follow us. Then, I always had 2 putts on greens so it was a bit boring and Clément, who is not playing anymore as he is now a teacher, had a very tough day, so, people left us and it was weird to handle. But this is golf."
The show was clearly in the second last group. Darius Van Driel and Pep Angles were neck and neck for a while and the Dutchman even had 2 strokes advantage before the end of first nine. The 22 year old Spaniard came back to one thanks to a birdie. But the key hole of the round was the 12th. Angles holed for birdie and Van Driel dropped one shot so names swung on top of the leader board and it never changed untill the end.
"I was playing well since the beginning of the week and I did not expect to win." said Angles, " I had a friend on th bag and it helped me to stay relax as we talked a lot between shots, not about golf. When I made this birdie to lead, I tried not to change anything. I had a number in mind, -10 and I stuck to my game plane. On the 17th, honestly, I did not plan to go that right over the trees, I wanted to hit my driver safely but I push it a little but I hit it long, so it crossed the water by 6 or 7 yards. I do not realise how this win could change things but I am happy with this just before heading to European Tour Q school Stage 1."
Van Driel recorded a solid 70, -3 but it was not enough, again. The Dutchman, second at the Alps Tour ranking since last week, is once again, the fourth time this year, on the second step of the podium.
France's Raphaël Marguery fired best score of the day, 68, -5 to finished third on his own.
| Alps Tour Golf
Van Driel finally won in France
Netherlands' Darius Van Driel finally broke the curse and won his maiden trophy thanks to level par final round. With this win, he jumps on top of the Alps Tour ranking. Ties for second place France's Jean-Pierre Verselin and Damien Perrier.
Van Driel was in the overnight leader with a two stroke advantage over local hero, Alex Kaleka. The latter started the best way with a birdie on the first hole and his playing partner dropped two shots in a row on 3rd and fourth. Van Driel struggled to enter the round and Kaleka was in control. At the turn, the two men were -10 and it seemed that once again, Van Driel couldn't lift a trophy. During the last 3 weeks, he was each time in contention and finished 3rd, 2nd, 2nd.
But this time, the bad dream was for Kaleka. He had two awful holes as he made double bogey on the 12th and triple on the 13th. His hope just blew up and Van Driel holed pars until the end to finally won his maiden win.
France's Damien Perrier, in the last group last Sunday, did a perfect come back with flawless 65, -6 to record his second runner-up place and his seventh top 5 of the season.
Josh Loughrey lost his leadership at the Alps Tour ranking despite a nice fourth place.
| Alps Tour Golf
Bech soared on home soil
Spain's Pol Bech fired 64 on long 6437 meter course going into final round of Alps de Extremadura. With -11 total, he has a two shot advantage over Alps Tour leader, Dutch Darius Van Driel.
Bech is leading but one of the most amazing round was posted to day by his fellow countryman, Sebastian Garcia. He had a slow start though dropping 3 shots on the first two holes then the Spaniard had an incredible 8 birdie series from the third to the 10th and he missed a short putt for birdie on the 11th to eventually land on earth after a journey in golfers' paradise. He signed for a 67 card with 10 birdies to be third on his own with -6 total.
Bech had one birdie less with 9 and he only dropped one shot to be in contention for final round. His one and only win was on home soil in 2013. Van Driel holed 9 birdies as well but had 2 bogeys and will be in the last group tomorrow to go for a back-to-back victory on Alps Tour.
The cut felt at +1 and 3 players in Alps Tour top 6 did not make it, England's Harry Casey, Italy's Andrea Maestroni and France's Matthieu Pavon. Once again the ranking will swing at the end of a tournament.
12th October 2015 | Alps Tour Golf
Bech easy winner in Spain
Pol Bech let no chance to his closest challengers to catch up with him. He increased his advantage to 3 shots to win the 2015 Alps de Extremadura with -14 total. DarIus Van Driel recorded his 5th second place of the season.
He had a 2 shot lead over Darius Van Driel when he teed off in the last group. He dropped on shot on the first but he erased very quickly the mistake by 5 birdies in a row from the second. Van Driel managed to stay in contact but clearly his game was not sharp enough to threat the Spaniard. After front nine, Bech had a 4 stroke lead.
Meanwhile, the best score of the day was signed by France's Franck Daux, He holed 6 birdies on the first nine from the 4th and went back to the club house with -1 so it climbed on the third step of the podium by his one with -7 total.
Van Driel kept his second place and since the end of summer break, in 5 tournaments he had this incredible results : 3rd, 2nd,2nd, win, 2nd. Obviously he increased his leadership on top of the Alps Tour ranking with now 2 event to go.
Latest Alps Tour Golf News