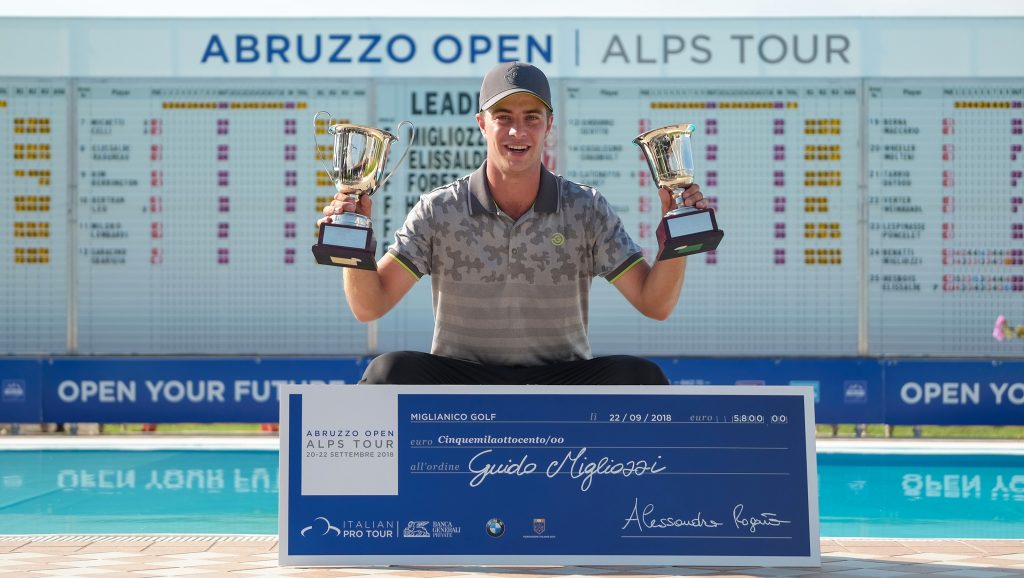 22nd September 2018 | Alps Tour Golf
Migliozzi wins Abruzzo Open, his second victory this season
Italy's 
Guido Migliozzi
 won today the 
Abruzzo Open
 at the 
Miglianico Golf and Country Club 
 with a total score of -18. It is Migliozzi's second Alps Tour victory this season, and the second time he wins this tournament in back-to-back years.
 Frenchmen Paul Elissalde, who entered the final round as leader, and Julien Foret finished tied for 2nd place with a total score of -17. Alps Tour veteran Foret turned in the best card of the day (-9) with an eagle, 9 birdies and 2 bogeys.
« My day was incredible » Migliozzi said. « I played a solid game on the front 9 and finished 7 under. Then, I managed my game. Unfortunately, I made a double bogey on hole 17th but at the end, it was enough to win the tournament by one shot he explained.  In the first round, I was a bit struggling with my game but I finished with 3 birdies in a row. Yesterday, I had a great round and finished 8 under par. Today, I was hungry, I was seeing the flags and I just wanted to hit the ball close to the flags, that was my game today »  he continued.
« I'm very happy because I was the defending champion and I defended the trophy » he concluded.
Santiago Tarrio (ESP), who finished today's tournament tied for 7th place (-13 total), is still the leader of the Order of Merit, the Alps Tour official season ranking. Louis Cohen Boyer (FRA), Alexandre Daydou (FRA), Marcus Mohr (ENG) and Xavier Poncelet (FRA). At the end of the season, the top 5 of the Order of Merit qualifies directly to play on the Challenge Tour.
Rising golf stars of the Alps Tour will travel to the Golf Club Des Iles Borromées, in Northern Italy, for the last tournament of the season, the 2018 Alps Tour Grand Final (October 18th through October 21st), reserved to the top 50 players in the Alps Tour Order of Merit.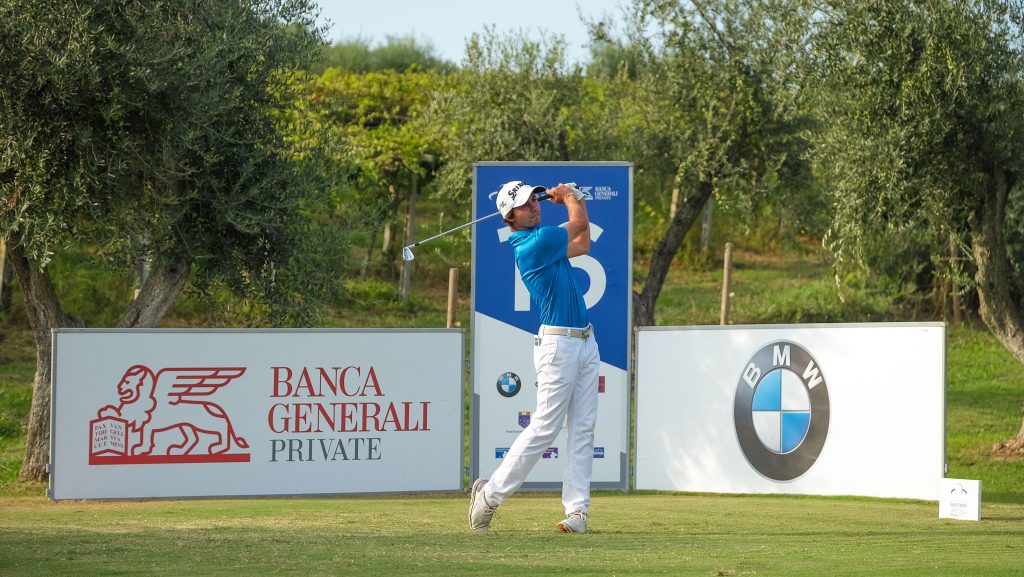 21st September 2018 | Alps Tour Golf
Paul Elissalde is chasing his first win as a pro
Frenchman Paul Elissalde enters the final round of the Abruzzo Open as sole leader with a total score of -14. Elissalde scored 5 under today in round 2 of the tournament while Carlo Casalegno (ITA) turned in the best card of the day at -9.
Kevin Hesbois (BEL) and Guido Migliozzi (ITA) are tied for 2nd place with a total score of -12.   
« Today was a bit more complicated than yesterday because my short game was not as good. It was more a mental issue because I'm no longer used to deal with this kind of situation, it was the case when I was an amateur. On the other hand, my long game was very good, very solid. I was not able to hole many putts on the front 9 even though I was not far. On the back 9, I made 4 good long putts which allowed me to go 5 under. My long game was as good as yesterday. It was a very good day nonetheless  » Elissalde said. 
«  The course is not very long, we can hit a lot of wedge shots. The difficulty for me is the chipping around the greens because the type of grass is not what we're used on other courses in France and elsewhere, it is rather thick. Also, I had some difficulties to read the greens as there is a lot of grain » he explained. 
« For tomorrow, the challenge will be being as good mentally to try and reproduce the same game » he concluded. 
50 players including 9 amateurs made the cut set at -1 and will play tomorrow's final round.
Final round will tee off at 7h24 local time at the Miglianico Golf and Country Club .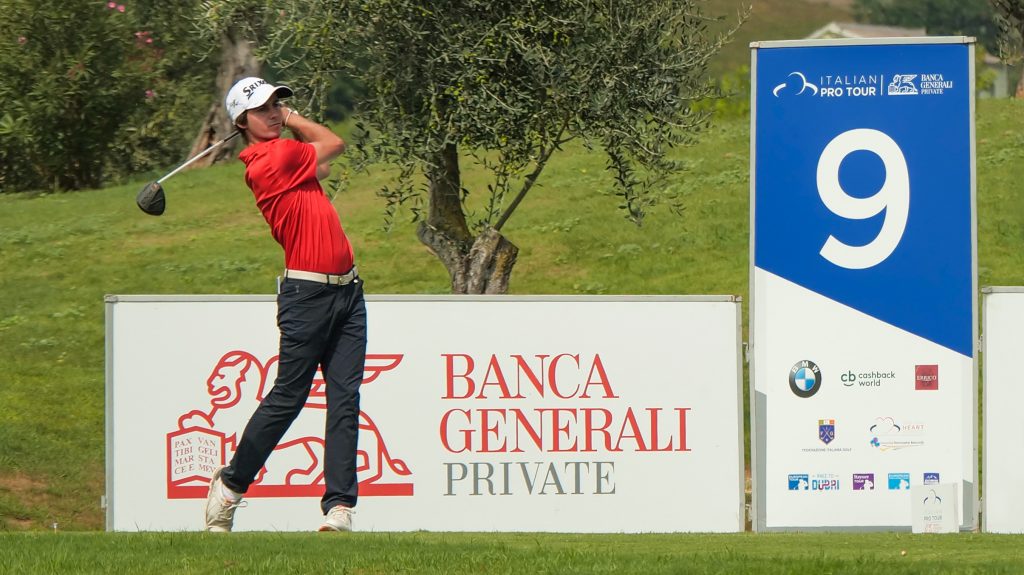 20th September 2018 | Alps Tour Golf
Frenchman Paul Elissalde takes the lead at the Abruzzo Open
Paul Elissalde (FRA) turned in the best card of the day today at the Miglianico Golf and Country Club  for the Abruzzo Open to finish round 1 with a total score of -9. 
The Frenchman is followed by Raffaele Benatti (ITA) who is one stroke behind at -8 total and by a group of 4 players who are all at -6 total: Leo Lespinasse (FRA), Julien Foret (FRA), Kevin Hesbois (BEL) and Albert Venter (RSA). 
«  My long game was really good, some of my shots ended very close to the pin. I did not have to make any long putts as I was never too far from the pin and therefore I was able to make a few birdies as a result. The wedging up to Iron 7 worked really well for me today » 22-year-old Paul Elissalde explained.
«  I'm going to get ready for tomorrow by praticing my putting and by hitting a few balls at the range. I will try to do the exact same thing as I did today » the native of Biarritz concluded.
Ellisalde made an eagle and 7 birdies.  
After some thin rain showers in the morning, the weather cleared up to let the sun shine. Temperatures were warm and humidity prevailed.
Round 2 will tee off tomorrow at 7h30. 

18th September 2018 | Alps Tour Golf
Abruzzo Open marks end of regular season
The 2018 Alps Tour season is almost coming to an end as rising golf stars are gathering this week for the final tournament of the regular season, the Abruzzo Open, at the Miglianico Golf and Country Club (Italy) from September 20th through September 22nd. 
The Abruzzo Open will be followed in October by the Alps Tour Grand Final at a date and place to be announced.
The Miglianico Golf and Country Club, a 18-hole par 71 golf course designed by renowned American architect Ronald Kirby, runs along the woods, wineries and artificial bunkers, with plenty of «  off limits » and « water hazards », making it a very unique place to hold the 5th edition of the Abruzzo Open. 
«  The course is very nice and is well-liked by our rising golf stars » tournament director Alessandro Pia said. «  Matt Wallace won the 2016 Grand Final on the same course. Wallace is today in 18th place in the European Tour's Race to Dubai » he added.
126 players from 15 countries across five continents have entered the tournament including defending champion Guido Migliozzi (ITA) and Santiago Tarrio (ESP), leader of the Order of Merit, the Alps Tour's official season ranking.  
The €40,000 prize money tournament will be played over 54 holes of traditional stroke. Following a cut after 36 holes, the top 40 and ties will qualify for the final round of the tournament. 
24th September 2017 | Alps Tour Golf
Maiden win for Guido Migliozzi
Guido Migliozzi defeated two Frenchmen, Alex Daydou and Julien Foret in a play-off after thrilling day. The 20 year old player and his two opponents were -14 after 72 holes and had to play extra time. Migliozzi eventually lifted his maiden trophy in front of his public.
This last round of Abbruzzo Open was a tragedy. No less than 6 different leaders were in contention. Overnight leader, Gregory Molteni, turned first nine over par and then lost his chance to win ; meanwhile a pack of players did well leaving the club house and the swing of leaders started when coming back home. One of the first to reach -14 was Niccolo Quintarelli, then they were 5 ties for the lead then Antoine Rozner took command but dropped a shot on his last hole.
Julien Foret shared his last round with Daydou. The latter holed for birdie on the last to join his playing partner and Migliozzi at -14.
The top 5 is the following : 1st Ugo Coussaud (FR), 2nd Adria Arnaus (SP), 3rd Antoine Rozner (FR), 4th Lars Van Meijel (NL) and 5th Robin Roussel (FR).
16th October 2016 | Alps Tour Golf
Pitoni sealed third win back on home soil
Italy's Stefano Pitoni won his third victory this season thanks to final round 64, -15 total, in Abruzzo Open. After his maiden win in La Pinetina last June, then a second trophy in Saint Malo Open in July, the 26 year old player grabbed a third title back on home soil.
He gained three shots on his last two holes, birdie-eagle, to take the club house lead and eventually, none of the players behind could catch up with him.
Fellow countrymen Federico Maccario and Enrico Di Nitto are ties for second place one shot further. They both signed for 69.
France's Raphaël Marguery had solid round, 67, to finish at 4th place on his own a shot back.
Overnight leader, Tom Shadbolt, could not beat the par today and finished 5th tie with Robin Goger, Uli Weinhandl and Thomas Elissalde.
Time to have a look at the Alps Tour ranking. Despite 3 wins in 2016, Pitoni is at 6th place and needs to confirm next week. Victor Perez who missed the cut in Abruzzo Open slept from 2nd to third place. Enrico Di Nitto took his place. Tom Shadbolt is now at 4th position and Franck Daux 5th. Federico Maccario is 7th.
The Final next week is to be played on same course as the Abruzzo Open. The winner will earn 9750 €, the second biggest check of the season and many players could still be part of the graduates.
15th October 2016 | Alps Tour Golf
Shadbolt in the race for back to back win
England's Tom Shadbolt shot best score of the day to take a one shot lead going into last round of Abruzzo Open. He has an opportunity to win a second title back to back after his victory in Spain in Alps Costa del Sol last month.
The 28 year old player was the first round leader but he struggled to hole birdies during second round. Today, after third round eventually started after 30 minutes delay due to threat of lightening, he recovered his feeling on greens with his putter. He had an amazing series of 6 birdies in a raw from the 4th hole. He turned first nine with score of 29 as he had birdie as well on the first hole.
He only dropped one shot on the 13th and signed for 63, 8 under, tie for best score of the week.
Italian duo Enrico Di Nitto and Federico Maccario is only one shot back. The latter won this season in France but Di Nitto still in the hunt for a maiden title.
A pack of 4 players is 2 shots back of the lead and if one of them shot low tomorrow, the winner might be an outsider such as Daniel Young, Julien Forêt, Kevin Hesbois or Daniel Berna.
23rd September 2016 | Alps Tour Golf
Alps Tour Grand Final in Abruzzo
This year, the Region Abruzzo welcomes the last two events of the season: the Abruzzo Open (October 13-16), a regular event and for the first time the ALPS TOUR GRAND FINAL, from 19th to 22th October. Both tournaments will be played at Miglianico Golf & Country Club.
The Top 50 players in the Ranking after the Abruzzo Open will be selected to play the Grand Final. They will play 72 holes without cut and € 65,000 will be distributed. The Final Order of Merit will establish the players obtaining the 5 'cards' for the Challenge Tour next year. The 5th place should be fought for.
The Miglianico Golf & Country Club enjoys a privileged position on the hills of Miglianico, in the province of Chieti, in the Abruzzo region, the "green region of Europe." Located about 125 meters high in a strategic area, also from the
climatic point of view, 4 km from the beaches of Francavilla al Mare and Ortona and 40 km from the fascinating mountains of the Majella, Miglianico Golf & Country Club extends over 60 hectares and is surrounded by forests of oak and poplar trees, vineyards, olive trees. The 18-hole course with par 71 and a length of 6015 meters, which winds through forests, vineyards and bunkers, with many "out of bounds" and "water hazards", gives the course of Miglianico Golf & Country Club, designed by one of the most famous American golf architects, Ronald Kirby, a unique personality.
18th October 2014 | Alps Tour Golf
Abruzzo Open 2014 – Report Final Day
[sc name="GTPlayer" id="2014_10_20_abruzzo_open_report_final_day" ]
Report Day3 – Abruzzo Open
| Alps Tour Golf
Abruzzo Open – JUAN ANTONIO BRAGULAT
[sc name="GTPlayer" id="2014_10_20_abruzzo_open_juan_antonio_bragulat_intervista_vincitore" ]
JUAN ANTONIO BRAGULAT interview Day3
Latest Alps Tour Golf News