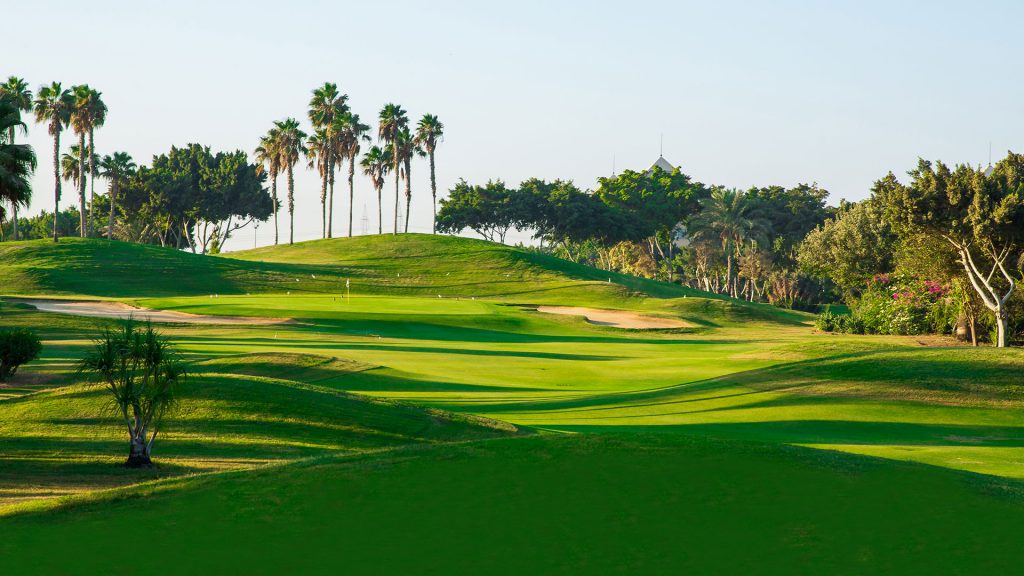 23rd March 2019 | Alps Tour Golf
Egypt & Pyramids on stage for the Second Swing of the Winter Series
In a couple of days, the Alps Tour schedule will rhyme with great golf and spectacular views on Egyptian pyramids. After a three-weeks break, our Rising Stars are gathering again for the Second Swing of the Winter Series: three tournaments in a row, played from March 25th to April 6th, with a field of 132 players for each venue; three different courses around Caire, with breath-taking sights of the pyramids: Dreamland Pyramids Open from 25 to 27 March on Dreamland GC, New Giza Open from 30 March to 1 April on New Giza GC – a new spectacular venue inaugurated last October – both on the West side of Cairo; and Katameya Dunes Open from 4 to 6 April, on the Lakes Course of Katameya Dunes (a Sir Nick Faldo's design), on the East side of the Egyptian capital.
Our players are coming from all over the world, literally, with 19 nationalities represented, to test two courses for the first time, New Giza and Katameya, which are new additions to the Alps Tour schedule, while Dreamland is an « old friend » of Alps Tour, having hosted one of our tournaments the last time back in 2016, when our most brilliant rising star – Matt Wallace – won the first of his six titles of that year and started his stellar career towards Challenge and European Tour, where he is now 10th in the Race to Dubai.
All of the hottest players of the moment are already at Dreamland Golf Course, looking to accumulate points and high rankings from the start of the season; all eyes are on the first two winners of 2019, Frenchman rookie Frederic Lacroix, 24, and more experienced Englishman Ben Wheeler, 26, but also Italian Edoardo Lipparelli, 22, looks in great shape having just won the French Qualifying School with a large margin – 6 strokes – over Spaniard Xavi Puig Giner, and 8 strokes over fellow compatriot Michele Cea: they will all be admitted to play the four Challenge Tour events hosted in France this year, and of course they're all in Egypt competing in the three Alps Tour tournaments, which boast a 40,000 euros prize money each.
The venues
DREAMLAND PYRAMIDS OPEN, 25-27 March
The Dreamland Golf Course is a world class facility located just a few minutes away from the Great Pyramids. The layout of the course was designed by the world renowned architect, Karl Litten and in 2010 the course was redesigned by popular Irish architect David Jones. At present it consists of 36 beautifully manicured challenging holes. The Championship Course in total measures an impressive 7,205 yards that can be played from five sets of tees, as well as a floodlit driving range. http://dreamlandgolf.com/
NEW GIZA OPEN, 30 March-1 April
The highly anticipated New Giza signature golf course is well worth the wait. The 200-acre, 18-hole designer golf course is designed by award-winning Thomson, Perrett and Lobb and seamlessly melds the natural terrains creating an inspiring environment for all players, professionals and amateurs alike. Teeing off with views of the Great Pyramids of Giza is no longer a fantasy. As a particularly exquisite touch, the course is surrounded by a 4km walkway encouraging people to walk for health and leisure.
http://www.newgiza.com/life#golf-clubs-6-october-newgiza
KATAMEYA DUNES OPEN, 4-6 April
Created by nature – designed by golfing legend Sir Nick Faldo. Katameya Dunes is a masterpiece of golf course design, from the spectacular to the subtle. Katameya Dunes comprises the Lakes Course (7,435 yards) and the Palms Course (6,767 yards), with five tee positions to provide a challenge suited to any standard of golfer, from the beginner to the mid-handicappers and tour players. The rolling fairways, spectacular views from elevated tees and the challenge of raised greens are just part of the golfing experience at Katameya Dunes. As the unbroken sunshine sparkles off lakes and fountains, take your golfing enjoyment to a new level. http://www.katameyadunes.com/
Click here for the field of the Dreamland Pyramids Open
Click here for the field of the New Giza Open
Click here for the field of the Katameya Dunes Open
Stay tuned! www.alpstourgolf.com and the app « Alps Tour Golf » (on App Store for iOS devices and Play Store for Android) will keep you updated on every news about Alps Tour.
Instagram @alpstourgolf
Facebook @Alpstourgolf Satellite
Twitter @AlpsTourGolf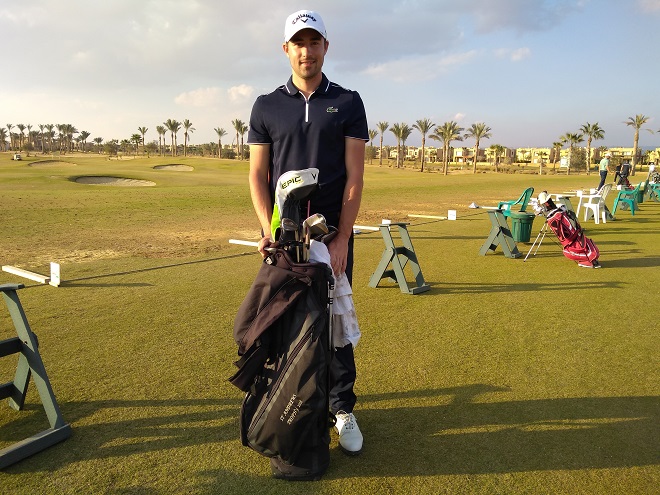 19th February 2019 | Alps Tour Golf
Four players share the lead after 1st round of Ein Bay Open
At last, it's tournament-time again on the Alps Tour, and players are showing all their eagerness to give their best on the course after a long winter break.
They couldn't find better conditions than what they had here in Egypt at Sokhna Golf Club, where the Ein Bay Open has started with four players sharing the lead after the first round at 66 (minus 6). The sun and a little breeze coming up in the afternoon, together with perfect fairways and smooth greens, gave way to 60 scores under par – exactly half of the field of 120 competitors.
The best cards of the day were returned by Spaniard Gonzalo Vicente Elena (6 birdies for him and no bogeys) and Frenchmen Frederic Lacroix (1 eagle, 4 birdies and no bogeys), David Antonelli (8 birdies and 2 bogeys) and Teremoana Beaucousin (6 birdies and no bogey).
While Antonelli, 32 years old, and Vicente Elena, 34, can count on a long experience in the professional rankings, Beaucousin, 24, is one of the most brilliant « rising stars » having started his career on the Alps Tour only last season, finishing 10th in the 2018 Order of Merit with a second place in the Open de la Mirabelle d'Or, last June in France.
The real good surprise comes from rookie Frederic Lacroix (pictured), 23, who turned pro in January after wearing the French amateur team uniform for many years and finishing his studies at the University; he is playing his very first tournament for a prize money – 40.000 euros, and a cheque of 5.800 euros for the winner, but – he assures – there's no more pression than competing as an amateur, « it is still the same game, you always want to play at your best ». And this is what he did today : « I made no mistakes, really; no bogeys, the putting was working, I could always find the fairways and hit some beautiful irons ; so it was really a nice start for my professional career ».
Behind the leaders, three players are tied in 5th position with a 67 (-5), Spaniard Javier Ballesteros, Austrian Felix Schulz and Frenchman Nicolas Platret.
Tomorrow, at the end of the second round, the best 40 professionals and ties will make the cut and will go on playing the third and final day of the tournament.
More info:
Instagram @alpstourgolf
Facebook @Alpstourgolf Satellite
Twitter @AlpsTourGolf
Latest Alps Tour Golf News