17th July 2021 | Alps Tour Golf
Xavier Poncelet Wins the Roma Alps Letas Open
July 17th, 2021 – Rome, Italy. After being leader and joint leader on the first two days, Xavier Poncelet maintained his focussed, solid game for a third straight day to win the Roma Alps Letas Open with a final round of 68 (-4) for a total of -17 (199).
This was the first win for the French player since the Mirabelle d'Or in 2012 and the first time he has headed the leader board over three days :
«Since 2012 I've had a lot of second and third places, lost a play-off but today was the day and I'm really happy. I played really well with just one bogey on the front nine after a flyer from the rough. Then on the 16th there was a lot of wind. I hit a good shot and was really surprised when it landed in the water and I did double-bogey. I looked at the leader board on the seventeenth tee and saw that I was level leader. I did a good drive and made birdie then on the eighteenth the wind made things really tough but a good drive and an eight iron to the middle of the green and par ».
It was a fantastic finale here at the Golf Club Parco dei Medici with a battle right down to the line between the top five players. At one stage a play-off loomed as Scotsman Ryan Lumsden came into the clubhouse two flights ahead of Poncelet with -16 (200). Poncelet's double-bogey had them level :
« There are still some very good players out there. Xavier has the 17th to play and a birdie possibility. Alessia too who is a fantastic player. There are lots of possible outcomes but I played really well today so regardless of the outcome I can't be upset » .
As Lumsden forecast, Poncelet birdied the 17th then parred the 18th to leave the Scotsman as runner-up.
A trio of players shared third place with -15 (201). Alessia Nobilio was the top LETAS player, top Italian player and top amateur player today. Quite a result for the nineteen year-old player who carded 5 birdies and just one bogey today.
« I came here just hoping to make the cut so it's amazing to be in the top three. I've only played four professional tournaments so far and this is my best result. Everything was perfect these last three days and I really enjoyed playing with the guys as I learnt a lot from them.»
She is joined by Gary Hurley from Ireland who had nine birdies today and two bogeys. Alongside him is the French player, Paul Elissade who shot an eagle, five birdies and a bogey.
The top Alps Tour amateur was Paul Margolis on -14 (202) who had an error-free 63 (-9) today to equal the best score of the tournament. This put him in joint sixth place with compatriot Sebastien Gandon and yesterday's joint leader, Gonzalo Vicente Elena.
Ryan Lumsden moves to second place on the Order of Merit behind Angel Hidalgo Portillo and  followed by Jacopo Vecchi Fossa in third.
A great end to the second mixed Open in the Alps Tour history and, once again, resoundingly positive feedback from the players. A breather of four weeks before the next stop of the Alps Tour at the Gosser Open in Austria from 19th-21st August.
Final Results: click here or check on the Alps Tour Golf app.
Stay tuned! www.alpstourgolf.com and the app « Alps Tour Golf » (on App Store for iOS devices and Play Store for Android) will keep you updated on every news about Alps Tour.
Instagram @alpstourgolf
Facebook @Alpstourgolf Satellite
Twitter @AlpsTourGolf
16th July 2021 | Alps Tour Golf
Joint Leaders in Rome Going into the Final – Poncelet & Vicente Elena
July 16th, 2021 – Rome, Italy. Yesterday's leader, Xavier Poncelet kept his first place but is now sharing it with Gonzalo Vicente Elena from Spain with both players on -13 (131) at the Roma Alps Letas Open.
Gonzalo Vicente Elena entered the clubhouse as leader after the morning rounds and his 63 (-9), the lowest score of the tournament so far. The 2019 Fred Olsen Alps de la Gomera victor particularly appreciates the Parco dei Medici course :
« It's a tricky course but I really like it. Above all it's a fun course to play and you can really enjoy your game with many different situations and dfferent club choices to make. It's amazing. The greens are not particularly fast but they have a good roll. I think it's hard to three putt on them. The conditions are just perfect ».
With 2 eagles, 7 birdies and a brace of bogeys on his card, he stayed very focussed:
« I started like yesterday with a bogey and so I said 'hey, you start with a bogey now come on with the birdies'. Hole two I hit a great shot from 200 metres to put it within a metre of the hole for eagle and I started to relax. I didn't think about the cut but just focussed on my game and played very solidly. My putting was amazing, with great rolls on the greens. Another eagle on the fifth and more birdies. Just one more bogey on the 13th where my drive went a bit left into the bunker and with very little sand it was impossible to par ».
Yesterday's leader, Xavier Poncelet, started well with a front nine of 34 (-3) putting him at -11 and just two strokes behind the leader :
« I played the fron nine really well and then on the 10th I had a bogey when I caught the rough and I missed the green on the 11th which is a tricky par 3 for another bogey. But after that I continued to play well with four birdies on the back nine focussing on my game and playing as I have all week ».
In joint third place on -11 (133) are the two LETAS amateur players Alessia Nobilio from Italy and the Swiss Anouk Casty, who both carded 65 (-7) today. Nobilio had an error-free round for a total of seven birdies whilst Casty also had seven birdies with her two bogeys being neutralised by an eagle.
The cut came at -2 (142) with 62 players teeing off tomorrow for the final round, 46 pros and 16 amateurs.  A quarter of the finalists are ladies from the LETAS of whom 6 are amateurs.
The flights start out at 8:00 am tomorrow from the first and tenth and there will even be some sibling competiton with Leonor and Tomas Bessa from Portugal playing together.
It should be a closely fought final as there are twelve players within 5 strokes of the leaders.
Results Round 2: click here or check on the Alps Tour Golf app.
15th July 2021 | Alps Tour Golf
Xavier Poncelet Leads in Rome
July 15th, 2021 – Rome, Italy. With a -8 (64) Xavier Poncelet entered the clubhouse at the top of the leader board after his morning round and at end of play, he had not been dethroned. The Frenchman carded a total of 9 birdies and just one bogey in the Roma Alps Letas Open  here at the Golf Club Parco dei Medici.
« It was a really great round. The front nine . I played really well all the day. On the front nine there was less wind at the beginning so it was easier to manage the distance so I got a lot of opportunities. My putting was good. Then on the back nine the wind picked up but I only missed two greens today. I managed my game well and when I missed I made a chip putt. The greens were soft and slow so I could be more aggressive ».
It was his first time playing the course and he was full of praise for the greenkeepers' work preparing the course which he described as a « great design ».
Two shots behind on -6 (66) are three players. The Cross of Saint Andrew flag is being proudly brandished by two Scottish players. The lowest score among the LETAS players went to Gabrielle Macdonald who started with a double bogey but did not let it faze her :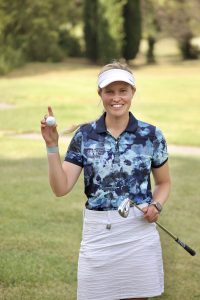 « I was annoyed with myself as I hit the fairway but pulled my eight iron into the bunker, thinned it out and missed my putt, so short game errors. But, I'd seen people in the morning who had a bad start and knew that there was time to come back, so I just tried to forget about it. I made a couple of good pars and then a hole-in-one on the 13th and after that I just couldn't stop smiling. My first ever hole-in-one so quite a special moment for me ».
Macdonald finished her round with six birdies and not a bogey in sight. She is shoulder to shoulder with her compatriot Ryan Lumsden, winner of last week's Alps de la Castillas, his second victory this season, after the MIRA Golf Experience Acaya Open in March. Lumsden has made no secret of his quest for a third title and with eight birdies and two bogeys he looks on form. Right alongside them is Sigot Lopez from Spain, whose eagle on the par five 17th lifted him up a slot after 6 birdies and two bogeys.
Eight players are right behind on –5 (67) including the highest placed amateur today, Paul Margolis from France. They are closely followed by a group of eleven players just one stroke behind on -4 (68) including the next four LETAS players. The Australian player, Kristalle Blum had briefly held the lead at the end of her morning round. She is joined by the two top lady amateurs, Anouk Casty from Switzerland and the Italian, Alessia Nobilio.
Play resumes tomorrow at 7:30 am from tees one and ten with the cut coming at the end of the thirty-six holes and 45 players and ties qualifying for the final on Saturday.
Results Round 1: click here or check on the Alps Tour Golf app.
Stay tuned! www.alpstourgolf.com and the app « Alps Tour Golf » (on App Store for iOS devices and Play Store for Android) will keep you updated on every news about Alps Tour.
Instagram @alpstourgolf
Facebook @Alpstourgolf Satellite
Twitter @AlpsTourGolf
18th November 2020 | Alps Tour Golf
17th November 2020 | Alps Tour Golf
14th November 2020 | Alps Tour Golf
11th November 2020 | Alps Tour Golf
30th October 2020 | Alps Tour Golf
Latest Alps Tour Golf News