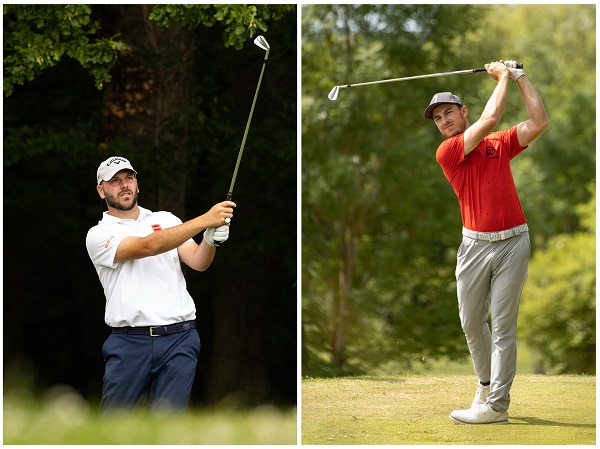 12th June 2021 | Alps Tour Golf
Vecchi Fossa and Gris joint leaders on day 2
Metz, 12th June 2021 – With another great day at the office at Golf de la Grange aux Ormes, Italian Jacopo Vecchi Fossa, 26, has climbed one step from yesterday's position and is sharing the lead at -8 with Frenchman Jules Gris, 25, after the second round of the Open de la Mirabelle d'Or, in Eastern France. Portuguese Tomás Bessa, 24, is enjoying his third position just one stroke back at -7, while 4th spot is shared by six players at -6.
On a weatherwise complicated day, with a light morning breeze turning into a real wind in the afternoon, Vecchi Fossa (teeing off at 13:14 from hole n. 10), leader of the Order of Merit after 6 tournaments, is showing once again that he is the man to beat: adding a 67 (-3) to yesterday's 65 (-5), he has carded one eagle, three birdies and two bogeys. "It's been a hard, windy day, the course is tight, the rough is definitely unforgiving, deep and thick. Overall, I'm satisfied with my game especially from the tee, I've missed some putts but I made an eagle three on hole n. 5 which definitely helped! I have suffered a bit on the last holes, with a bogey on n. 9; those are the most difficult holes and the wind made them even more problematic. Let's see what tomorrow brings!".
Jules Gris, who gained his spot in the tournament thanks to his 3rd place in the French Qualifying School, which gives him the right to also play two Challenge Tour events on French soil, is obviously very happy with his result: "I have been playing well for a while now and my coach was feeling that something good was about to come, and it happened today. I'm curious to see how I'm going to face the game tomorrow, as it is the first time that I'm in such a good spot. My strategy was to keep the ball in play and play with my head, it worked well. I will try to keep the same mindset for tomorrow, always trying to have fun on the course whenever possible".
The best card of the day was signed by Italian Gianluca Proietti, who shot a 63 (-7), ten shots better than first round, with one eagle, seven birdies and two bogeys, and is sitting on T15 at -4.
Once again, the work of the fore-caddies was really precious helping to find balls in the rough and speed up the game; 59 players (44 pros and 15 amateurs) made the cut at level par, and will play tomorrow to share the 45,000 points for the Alps Tour members (and the 40,000 Euros for the pros). The second round statistics record also 51 players under par and a total of one double eagle (made by Frenchman Sam Dumez, a 2 on hole n. 4, a par 5 of 460 metres!), 25 eagles and 460 birdies for the day.
Click here for the 2nd round results or check on the Alps Tour Golf app.
22nd February 2017 | Alps Tour Golf
Van Meijel grabbed maiden win in Egypt
Dutch Lars Van Meijel grabbed maiden win in Egypt. He won the Red Sea Little Venice Open with -13 total thanks to last round 68. Italy's Jacopo Vecchi Fossa was at same score with 2 holes to play but eventually dropped back to back shots on the 17th and the 18th hole.
Lars Van Meijel was already in contention last week but did not succeed in lifting the big silver cup. This experience was for sure a precious one as he showed nerves of steel as he was leading the way since tee 1.
The young player from Netherlands had up to a 5 shot advantage during the last round but Vecchi Fossa, in the second last group was chasing him birdie after birdie. Still, the suspense was only on the leaderboard but on course, Van Meijel was 4 shots better teeing off the last hole than the leader at club house. He dropped 2 shots on 18th but could celebrate a first title as pro.
"I started really well, I played really good on the front nine. I just made a silly on the par 5 8th and I made some good birdies again. I had a really poor tee shot on the last hole and I made double. I have to admit it was because of emotion going for a win.
Compare to big amateur competitions there are not that many difference. The level is very hgh the only thing is that you are playing for money and every shots counts."
Vecchi Fossa finished at second place and Gerard Piris Mateu, first day leader, completed the podium.
Lars Van Meijel with this win and a 4th place last week, is currently leading the Alps Tour order of Merit with 6425 points. Julien Brun is only 215 points back, with a win and a 5th place. Jacopo Vecchi Fossa is third, Alexandre Daydou, 4th and the 5th place goes to Xavier Poncelet.
Latest Alps Tour Golf News