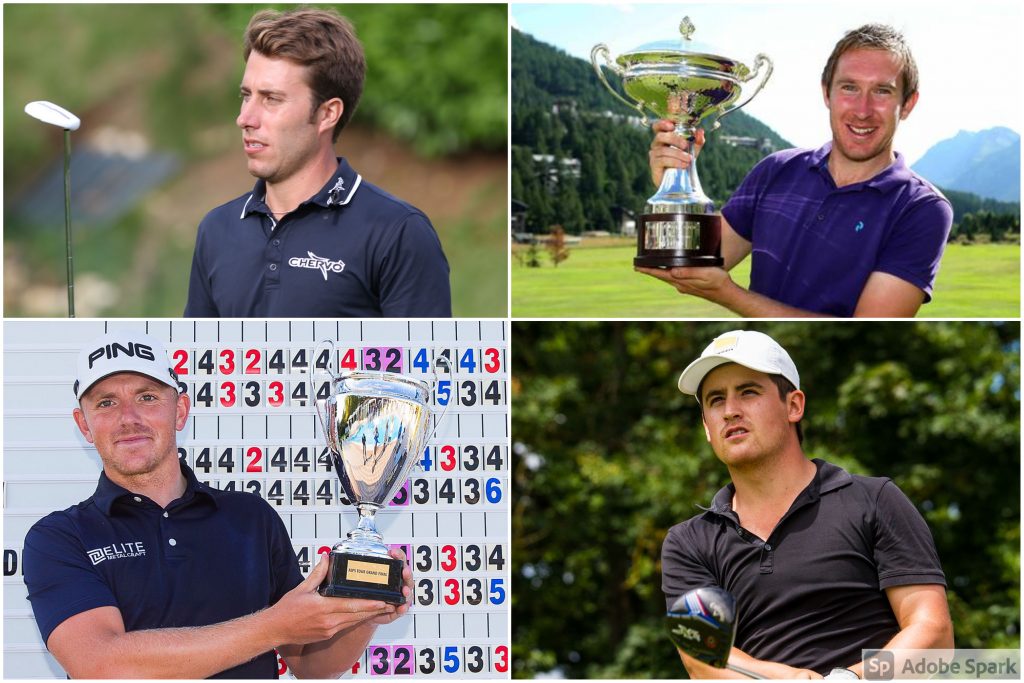 8th April 2021 | Alps Tour Golf
Wallace & Friends: Those Ranking Winners Still On The Rise
Nino Bertasio, Darius Van Driel and of course Matt Wallace, the most successful former member of the Alps Tour (with over €6 millions career money won on the European Tour) are among the past winners of the Order of Merit, as well as Jason Palmer who progressed all the way to the bigger tour before a wrist injury ended his playing career, and has now been caddying on the European Tour for another former Alps Tour player, Chris Paisley.
Here they share their memories and wishes for the Tour where their careers started. Enjoy!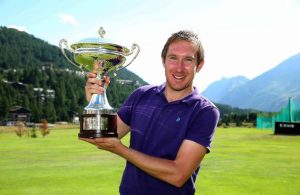 Class of 2013
"Playing on the Alps Tour was undoubtedly the most fun I ever had in my golfing career. What I enjoyed the most was the camaraderie between the players. I made more friends playing on the Alps Tour than at any other level of golf, and I think if you play in a friendly environment then that can only help to bring the best out of you, both as a person and as a player.
Being from England it was a big decision to try to establish myself on the Alps Tour instead of the Europro Tour. I believed that the travelling involved on the Alps Tour was more similar to life as a touring professional, where you need to fly to different places each week and are subjected to different types of courses and different grasses. It was one of the best decisions I ever made and my game progressed further as a result.
I will forever be grateful to the Alps Tour for giving me the platform to grow as a player. I was fortunate to gain some success and the confidence that brings is enormous. I would lean on those successes in future years and ultimately I progressed all the way to the European Tour before a wrist injury ended my playing career. The venues are superb and the strength of competition continues to improve year after year. You only need to look at the European Tour and it is littered with former Alps Tour players, which tells you all you need to know.
So thank you Alps Tour for some of the best and happiest memories of my life! May you continue to provide opportunities for some of the most talented players on the continent for years to come".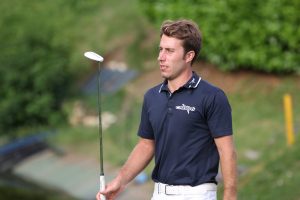 Class of 2014
Nino BERTASIO (Italy)
"The Alps Tour – and more precisely the season of 2014 – represented for me my golfing comeback after a couple of difficult and complicated years on the courses.
I remember that the first four results I had at the start of the season guaranteed my goal of the season, that is the top 5 in the Order of Merit. If I don't go wrong, I started in Europe with a 5th place in Austria, a 2nd at Colli Berici in Italy and two wins in a row, in Guadeloupe and Asiago in Italy.
Winning the Order of Merit was a bonus which gave me the confidence needed to face the Challenge tour the following year, and then the European Tour in 2016.
I remember we had a lot of fun during the whole season. We were a nice group of Italian players and we always tried to spend some time together, sharing apartments where we used to cook, grill and bbq, we played cards or any kind of sports during the free time. These are things that we don't do on the bigger tours anymore".
Darius VAN DRIEL (The Netherlands)
"The Alps Tour has a special meaning to me. This is where I started my pro career and it's where you need to fight for every euros: you're not going to get rich but in order to progress to the next level you really need to play well.
I've learned a lot on the Alps Tour and it provided the base to where I stand today.
In that year, 2015, after a shaky start of the season with two missed cuts and three results with an average ranking, I had four top-10s and finished 2nd five times – in May, the Gosser Open in Austria and the Colli Berici in Italy, in September the Citadelle Trophy and the Haut-Poitou in France, the Alps de Extremadura in Spain and then, finally, I won the Open International de Marcilly: that was a big load off my shoulders! To finally win after so many second places".
Since then, Darius has been a regular on the Challenge Tour and European Tour: he secured his first Challenge Tour title at the inaugural Euram Bank Open in Austria in 2018 and added to his trophy tally 13 months later at the Rolex Trophy in Switzerland, where he charged up the leaderboard with a final round of 64. He finished the 2019 season as 13th in the OoM and has gained the European Tour card.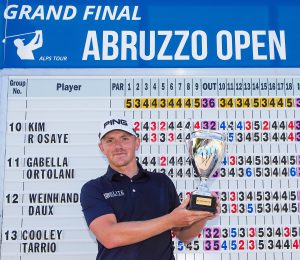 Class of 2016
Matt WALLACE (England)
"I want to wish everybody the best of luck on the Alps Tour starting up again and celebrating its 20th anniversary in 2021. The Mini Tour is such an important part for professional golf – it certainly was for me!", says Wallace in a video message he sent to the Alps Tour just before the start of the Spring Series in Acaya (Italy) last March.
Wallace, now 31, is undoubtedly the most successful "product" of the Alps Tour. He joined in 2013, when he was 22, having gained his playing category through the Qualifying School the previous year, and went on with two average years – ranked 41st in 2013 and 27th in 2014.
In 2015 he started improving (7th), before really exploding in 2016 with a record 6 wins: Dreamland Pyramids Open in Egypt, Tunisian Golf Open in Tunisia, Gosser Open in Austria, and Vigevano Open, Open Frassanelle and Grand Final by AXA in Italy.
"Congratulations to the Alps Tour for getting up and running in Europe. I know you're starting in Italy so good luck to everyone playing. Matteo Manassero will be there, as well as Enrico Di Nitto, another good friend of mine. I wish everyone the best of luck and have a great season!"
The stories of the last four winners will follow in the next few weeks, stay tuned!
The Alps Tour in numbers since 2001:
€ 15.240.000 prize money distributed;
365 tournaments;
14 countries visited;
152 different venues;
217 different tournament winners
Please click:
here for the full list of Schedules and Winners 2001-2020
here for the alpha list of winners 2001-2020
here for the Top 5 OoM 2001-2020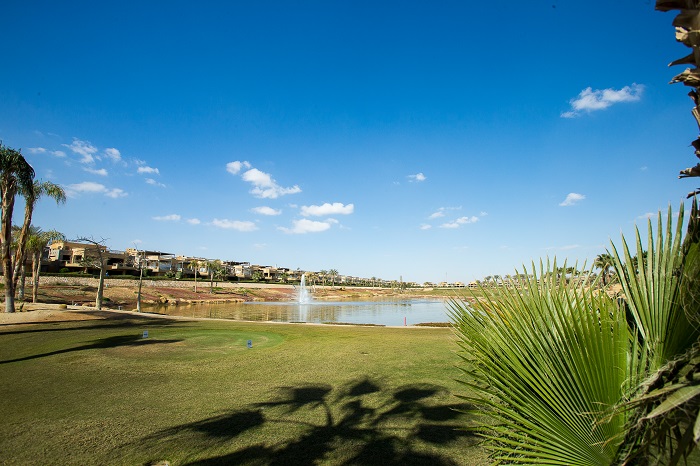 5th February 2019 | Alps Tour Golf
New season, new challenges
A new season is starting and new challenges are awaiting the Alps Tour players, the « rising stars » of golf looking to climb all the steps that lead to Challenge Tour, European Tour and beyond.
And the premises for another brilliant year are all there: just think of the record number of entries received for the Qualifying School last December – 255 players – and the level of low scores recorded on challenging America & Asia courses at La Cala Resort, with Spaniard Angel Hidalgo totalling -14 to gain the final top spot. The trend is continuing with the first tournaments of 2019 and at two weeks before the start, the number of entries are exceeding the available spots, with a long waiting list.
There's a lot of expectations to see who will be the next players following in the footsteps of some really talented players who have sharpened their skills on the Alps Tour : like Englishman Matt Wallace, 28, who only two seasons ago won six tournaments and the Order of Merit of the Alps Tour, gained access to the Challenge Tour the following year and soon progressed to the European Tour, where he won 3 tournaments in 2018 and ended the season on 10th position on the Race to Dubai, with nearly 2,9 millions euros of prize money.
The 2019 season will tee off in Egypt, as it has been the case since 2013, with the Ein Bay Open played from February 19-21 on beautiful Sokhna Golf Course (pictured, a view of the 13th hole, credit Tristan Jones Photography), followed by Red Sea Little Venice Open (February 25-27), on the same venue. The Egyptian « Winter Series » will go on with three tournaments played from March 25th to April 6th on three different courses near The Caire and the pyramids : Dreamland Pyramids Open on Dreamland GC, New Giza Open on New Giza Gc – a new spectacular venue inaugurated last October – and Katameya Dunes Open, on the Lakes Course of Katameya Dunes.
Italy will have the role of opening the season in Continental Europe, with traditional Abruzzo Open on Miglianico Golf moved from September to April 17-19, just before Easter. After that, Alps Tour will then get to the heart of the schedule with some exciting changes : we are pleased to welcome new venues in Italy like Acaya Resort near Lecce, and Golf Nazionale near Rome ; and we will return to Golf de Valdeluz in Spain, host of the Alps de Las Castillas again.
And, for the first time in Europe, we're going to host a new format, a real mixed event co-sanctioned with the LET Access Series : the Saint-Malo Golf Open (4-7 July) will see ladies and men compete together for the same prize money.
One thing is not changing, and it is the enthusiasm and the commitment of an army of young golfers chasing their dream and looking for a promotion. A total of at least 18 tournaments during the year will bring the best 50 players in the Order of Merit to compete in the Grand Final, the last fight to gain one of the 5 spots at stake to be admitted in the Challenge Tour 2020.
Stay tuned ! www.alpstourgolf.com and the app « Alps Tour Golf » (on the App Store for iOS devices and Play Store for Android) will keep you updated on every news about Alps Tour.
Instagram @alpstourgolf
Facebook @Alpstourgolf Satellite
Twitter @AlpsTourGolf
15th May 2017 | Alps Tour Golf
The Gösser Open – 25th anniversary
The Alps Tour season in Europe is about to resume, let's have a focus on a very special tournament, unique in the Alps Tour history.
The Gösser Open celebrates its 25th anniversary in 2017 and it's the 17th edition on the official Alps Tour schedule, since 2001. In many ways, the Gösser Open deserves the words – special, unique, unrivaled.
The Austrian brewery is the most faithful sponsor of a tournament on the Alps Tour. Precious partner since the beginning of the tournament before entering the Alps Tour calendar, the company is synonymous for happiness, party and celebration for all players and spectators who had the chance to attend the Gösser Open.
For Alps Tour members, coming to the Gösser Open is always a true joy. Elders inform rookies that the place is unique in many terms. Hosted by the GC Erzherzog Johann in the cute little town of Maria Lankowitz in Austria, the atmosphere of the event is very special. The team has been there since the first edition on the Alps Tour and one can feel the friendly, family and professional welcome thanks to Klaus Geyrhofer, Gerald Stangl, Dunja Loitsch, Mark Rotermund, Robert  Keusch and all volunteers around their President, Hansjörg Langer.
Last but not least, the promoter worked on the Gösser Open since 2001,  the Murhof-group and its President Johannes Goess-Saurau. They took care of this symbolic event as a precious jewel and thanks to their commitment, many amazing stories happened on course and were part of the historical book written in Austria.
The longest play-off happened in 2008 when home favorite Martin Wiegele defeated Emmanuele Latanzzi and Andre Rota after extra 8 holes. All fans do remember very emotional Scott Henry of Scotland lifting his maiden trophy and his speech about his parents' sacrifice for his career. Ireland's Brendan McCarroll wrote two nice chapters of the event with the only back to back win in 2012 and 2013. The Irishman did also enjoy well fishing in the lake by the course with his fellows. And then, Matt Wallace, the multiple winner on the Alps Tour in 2016, engraved his name on the big Gösser glass trophy, one of his six victories last year. (picture)
The 2017 edition will take place from the 18th to the 20th of May, same place, same sponsor, same people, same passion!
6th November 2016 | Alps Tour Golf
Marty holds firm on top in El Saler
France's Fabien Marty is still leading Stage 2 at El Saler golf tie with two other players. There is one day to go to confirm who will play the final Stage of European Tour Q School.
Thanks to his Alps Tour ranking end of August, Marty avoided the Stage 1 of European Tour Q School. His golf is in very good shape and it's been three days he is holding firm on top of the leaderboard.
Among Alps Tour players, Enrico Di Nitto and Tom Shadbolt, both playing in Panoramica Golf course, are respectively 10th and 15th, so on the right side of the line.
Good day for Raphaël Marguery in Lumine, He shot -4 for a 34th place tie. He have to be in top 20 to have a chance.
Alps Tour winner, England's Matt Wallace did not manage to improve his score today. He is 66th.
5th November 2016 | Alps Tour Golf
Perrier and Pavon to play on European Tour in 2017
Good news from Challenge Tour, Damien Perrier, 2015 Alps Tour graduate just finished 13th of the Road to Oman and will play on European Tour next season.
Fellow countryman Matt Pavon, 2015 Alps Tour member, finished 6th. Congratulations gentlemen! We are very happy for you!
Meanwhile, Fabien Marty is still leading Stage 2 of European Tour Q School in El Saler. Tom Shadbolt and Enrico Di Nitto had a good day in Panoramica golf course, they are respectively 11th and 17th.
Matt Wallace shot +5 after his opening -4 and is 60th in Lumine Golf.
4th November 2016 | Alps Tour Golf
Marty to lead after day 1 in European Tour Q School
Fabien Marty leads Stage 2 of European Tour Qualifying School at Golf El Saler with opening -8.
Season is not over for many Alps Tour members. This week is the opportunity to change the profile of their 2017 season. Top 6 of Alps Tour ranking end of August got an exemption to play directly Stage 2, others succeeded in Stage 1 to be in the field.
Below some result of some of our members.
Matt Wallace, winner of the ranking, shot -4 to be at 8th position in Lumine Golf. At the same venue Victor Perez is 64th with +2 and Raphaël Marguery is 72th with +3.
At El Saler, Federico Maccario is 69th with +3.
At Las Colinas, Alps Tour winners Franck Daux shot -2 for 24th place and Thomas Elissalde played +5.
On the last venue, Panoramica Golf, Tom Shadbolt signed for a -5 card and a 10th place, Enrico Di Nitto shot -3, 26th and Stefano Pitoni scored +1, 61st.
22nd October 2016 | Alps Tour Golf
Wallace to enter Alps Tour Hall of Fame
Matt Wallace wrote the most amazing story in the 15 year Alps Tour history. The 26 year old Englishman won the Grand Final by AXA by one shot in front of Richard Jouven, thanks to closing 68, his sixth title this season and won the Order of Merit with almost twice as many points as the second Federico Maccario.
Some people could say, the circuit is too easy for him. What a lack of knowledge… Wallace is strong, very strong but he had played 3 full seasons on the Alps Tour before he became the genius on course in 2016. Whatever the circuit, 6 wins is an outrageous record.

He entered 9 events this season and his worst result was a 4th place. He won 6 times and 5 titles in a raw. His family were there for the Grand Final, he really wanted to win in front of them, for sure he learned to play with some pressure.
"It has been hard because I knew everybody will attack from all guys looking for the Challenge Tour card. And my objective was to win the tournament indeed. This was the most difficult victory of the year."
Many players explained, once they leave the Alps Tour that they will never forget its atmosphere. Wallace has the same feeling, the Alps Tour is special.
"The Alps Tour will remain in my memory forever. For the friends I met, for the countries I visited. I played on the European Tour, on the Challenge Tour but I never experienced such an atmosphere."
He will play at least on Challenge Tour next year, as the 4 players who secured their card today, Italy's Enrico Di Nitto and Federico Maccario, England's Tom Shadbolt and France's Victor Perez.
A sixth man, Franck Daux, is on the wrong side of the cut by less than 25 points/€ but reference to the level of game of the five men in front of him, he can really hope than one of them will make the cut at the Final Q School of European Tour to get his card. Matthieu Pavon was in the same position last year and is about to finish top 15 on Challenge Tour.
Time to let the curtain falls on a enthralling year, catch up with you for the Q School in December.
21st October 2016 | Alps Tour Golf
Wallace in the hunt for a sixth title
Matt Wallace, Alps Tour multiple winner, is heading to Grand Final by AXA final round with a 2 shot advantage over Italy's Federico Maccario. The Englishman shot 66, -5 thanks to 3 strokes earned on the last two holes, birdie-eagle.
Wallace already wrote a chapter of the Alps Tour history book. The record is amazing and almost unbeatable. The 26 year old player won his maiden title in Egypt in February and it was the launch of an incredible series. From this win, he won four other titles in four events. The previous record was three victories in a season, France's Julien Quesne in 2007 or Italy's Matteo Del Podio in 2010 for example.
Thanks to these results, Wallace got some invitations to play on Challenge Tour and main Tour where he made cuts.
Tomorrow, the story could be even better if he manage to lift a sixth trophy.
« I battled hard off and I got a really good start and I was disappointed if I did not finished 4 under or better. On the 17th, I hit a great shot to make birdie and on the last, it was just the two best swings of the day that sets me up for an eagle chance and I rolled in.
You just have to play the better golf you can. Tomorrow, I am looking forward to going out there and playing my hardest again and hopefully be in this position tomorrow.
My family is her with me and it is a bit special because they haven't seen me winning this year. It is nice to have them, I told them to come if they could because I will won the order of merit anyway, but to play well is nice in front of them. »
On his toes, for a second win this season, Federico Maccario, winner last month in France, then France's Jean-Pierre Verselin and Richard Jouven are one shot further.
20th October 2016 | Alps Tour Golf
Morago takes half way lead in Miglianico
Spain's David Morago took half way lead of the Grand Final presented by Axa. The 23 year old player added a 67 to his opening 65 to have one shot advantage at -10 over a pack of five players including overnight leader, Matt Wallace.
The latter had a shy day compare to his first round, he only signed for 70 although many players shot under 70.
Morago's best results this season is a second place in Open de Saint François Guadeloupe and a podium in Frassanelle Open, both in June.
France's rookies Richard Jouven and Alex Daydou, 66 and 65, admitted they could count on their putting.
« I tried to be aggressive when I could but what makes a difference between and solid day and a very good day is the putting », said Daydou.
« I had a slow start as I turn first nine level par but from the 10th to the 13th, I made three birdies and a good par on 11th so it kind of launched me. » Jouven explained.
England's big hitter Andrew Cooley and Spain's David Borda are among the group tie for second place. Cooley fired score of the day 63 and came back to the club house in 29.
23rd August 2016 | Alps Tour Golf
Top 6 to be exempted of European Tour Q School stage 1
Summer break is over for Alps Tour members. This week, the host of the Alps Tour event is the great Golf and Country Club Castello di Tolscinasco. Several Italian Open took place there in Pieve Emmanuele.
The tournament is the last one to count for top 6 (six) of the Alps Tour ranking to get an exemption of Stage 1 of European Tour Q School. This first Stage is a real battle and to avoid the first third of the marathon is priceless.
Alps Tour leader, Matt Wallace won't loose his position. The current top 4 seems to be safe : Victor Perez, Franck Daux and Enrico Di Nitto. But a pack of seven players are without 4000 points and a win in Italy is 5800. Among the players to be able to grab the previous exemption, three Italians, Stefano Pitoni, 5th, Federico Maccario, 10th and Aron Zemmer 11th.
The course is one of the most beautiful of the season players said and the weather is expected sunny and very hot.
Latest Alps Tour Golf News