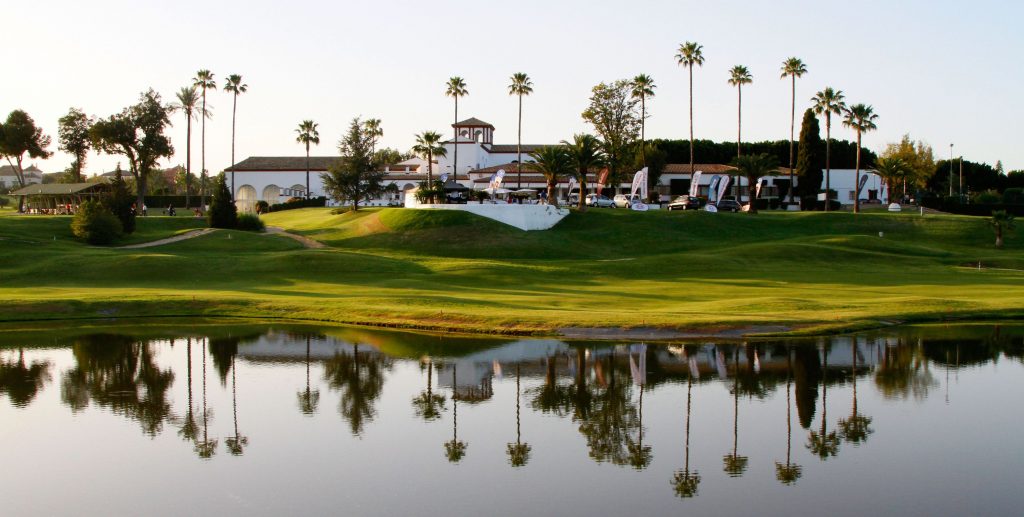 21st September 2020 | Alps Tour Golf
The Alps Tour heads to Spain
Tomares, Sevilla (Spain), 21st September 2020 – After the thrilling last tournament in Italy with the much talked-about Matteo Manassero's return to form at the Toscana Alps Open, the busy month of September continues for the Alps Tour players at the Alps de Andalucia in Sevilla, taking place from Wednesday 23rd to Friday 25th September.
The tournament has been a classic stop in our schedule, but last year it could not take place so this is a very welcome comeback with a new venue awaiting the Alps Tour players, Club Zaudìn Golf, a beautiful Gary Player design amidst orange and olive trees, with large fairways and ondulated greens.
And once again, we have a full field of players eager to hit the fairways, and a very long waiting list. A past winner of the Alps Tour Order of Merit (2018), the Spaniard Santi Tarrìo – is there, together with four of the current year tournament winners – from Spain, Jordi Garcia del Moral winner of Cervino Open and leader of the Order of Merit after six tournaments; and Alejandro Del Rey fresh from his French win two weeks ago; from Italy, Stefano Mazzoli, victor at the Red Sea Little Venice Open and from the Netherlands, Lars Keunen, winner of the Ein Bay Open.
Among the contenders this week, one past winner of the tournament – Austrian Clemens Gaster (2017) will be facing some stiff competition within the Spanish contingent with the likes of Alfredo Garcia Heredia, Carlos del Moral, Santiago Luna, David Borda and Scott Fernandez, all with European and Challenge Tour experience.
Out on the course the players face a par 71, 6.504 metres, designed by Gary Player and inaugurated in 1992, just 10 minutes from the centre of Seville.
One bonus will be the weather, with temperatures in the 27°-28° degrees and low winds.
Entries: click here
Stay tuned! www.alpstourgolf.com and the app « Alps Tour Golf » (on App Store for iOS devices and Play Store for Android) will keep you updated on every news about Alps Tour.
Instagram @alpstourgolf
Facebook @Alpstourgolf Satellite
Twitter @alpstourgolf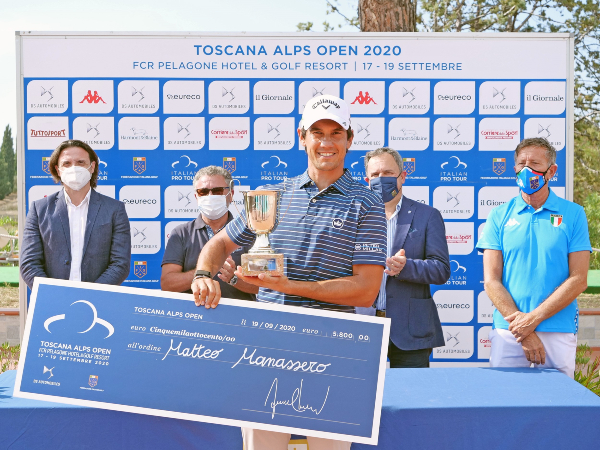 19th September 2020 | Alps Tour Golf
Magnifico! – Matteo Manassero Claims Victory at Toscana Open
Grosseto, 19th September 2020 – At the end of an incredibly exciting round, Matteo Manassero sank a birdie putt on the 18th to win the 2020 Toscana Alps Open here at the Golf Club Toscana.
He had tweeted in January of this year that he was working with coach James Ridyard and that things were "moving forward nicely, step by step without rushing". This win seems to augur well for the efficacity of his approach. Let's hope that we will be seeing a lot more of Matteo Manassero out on the fairways in the not too distant future.
"It's very nice obviously, going back to winning a tournament is always a great pleasure and a great feeling, anywhere this happens", said Manassero just after finishing his round. "I'm really happy and I'm really proud about the way I've played today, to be honest. After a long time and a lot of work, it's a big achievement being able to run the right mindset everyday since the start until the end and I'm happy that the game supported, the putt supported, everything was on point; so yeah, I guess I've started the week thinking whether the work was good or not, and I guess it's in good place".
"Until the end I just kept on playing and did not know whether I was leading, I didn't watch, in fact on 18 I wasn't sure; well, I guessed, but I didn't know if I would win by many or by one, or if I needed a birdie.. part of the work has been to stay really on what I am doing and on the things that are under my control, and the leaderboard is not under my control; in the end I did well not to look at it, right?"
The Italian had an intense battle in his round with Spanish playing partner, Angel Hidalgo Portillo, yesterday's leader. The Spaniard had confessed to having some club problems in Round 2 and they seemed to be manifesting themselves again in Round 3 as he started with three bogeys on the first four holes to be at -13. Manassero, on the other hand, had yet another solid start with straight pars then birdie at the 4th to move to -15.
Portillo settled down and had two birdies and two pars to finish, putting him on -13 at the tenth, +1 (37) for the front nine. Manassero, however, with a birdie and an eagle to complete his nine, moved to -17.
A par each on the 10th, then Manassero dropped a shot on the 11th with a bogey whilst Portillo birdied to draw within two strokes of the Italian : -16 versus -14.
Birdie on the 13th for Portillo and par for Manassero put them at -15 and -16 respectively. Reverse roles on the 14th with birdie for Manassero and par for Portillo.
The Italian birdied the next two holes and seemed unstoppable whilst the Spaniard had just one birdie. Teeing off at the 17th, Manassero was at -19 and Portillo at -16. Then came the spanner in the works, bogey for Manassero and birdie for Portillo. Literally, everything to play for on the 18th hole par 5.
Portillo had the honours and when he reached the green his putter did not let him down and he holed out for birdie. Level scores at -18 each as Manassero lined up his final putt. In it dropped and Matteo Manassero could savour his first victory in a professional tournament since 2013.
In third place was the Spanish player, Manuel Elvira at 196 (-17). He had seemed also to be in contention for the title with birdies and pars through the 15th, but two bogeys saw the title move out of his grasp despite an eagle on the 18th.
The best round of the day was a -7 (64) and interestingly enough, all the players in the final round finished at least one stroke under par. The best round of the week -9 (62) came from the Italian amateur, Andrea Romano, leader on Day 1 who finished in joint eleventh position at 201 (-12).
Angel Hidalgo Portillo's second place today moves him up eight places to sixth on the Order of Merit. Manuel Elvira moves up six slots to eleventh but no change at the top with Jordi Garcia Del Moral from Spain in first place.
Next stop Spain and the Andalucia Open. The Gary Player designed Zaudin Golf Club in Seville will welcome the players from 23rd to 25th September, so "hasta pronto" for more great golf from the rising stars of the Alps Tour!
Results Final Round: click here
Stay tuned! www.alpstourgolf.com and the app « Alps Tour Golf » (on App Store for iOS devices and Play Store for Android) will keep you updated on every news about Alps Tour.
Instagram @alpstourgolf
Facebook @Alpstourgolf Satellite
Twitter @AlpsTourGolf
Latest Alps Tour Golf News