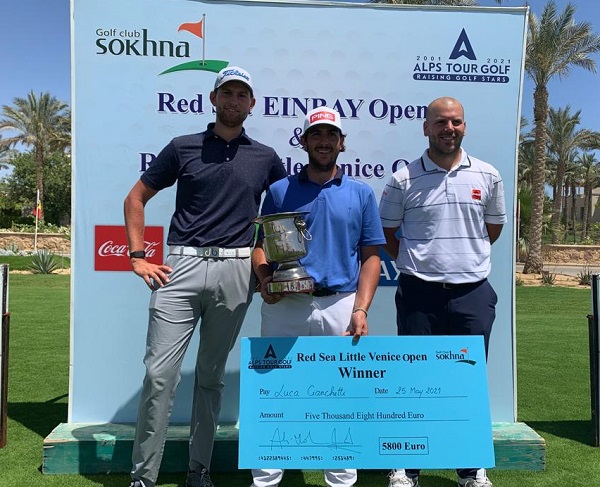 25th May 2021 | Alps Tour Golf
Cianchetti goes wire-to-wire and celebrates third Alps Tour win
The last round of the 9th edition of the Red Sea Little Venice Open at Sokhna GC, in Egypt, was coloured in green-white-and-red like the Italian flag, when Luca Cianchetti from Modena confirmed his great form of the past two days and finished the tournament at 200 (-16) topping the leader board again and seizing the first prize with a two-strokes margin over fellow compatriots Jacopo Vecchi Fossa and Ludovico Addabbo, tied second at 202 (-14).
With today's 64 (-8) – best round of the day, signed also by Irishman David Carey – Vecchi Fossa, 26, from Reggio Emilia, climbed seven positions from yesterday's T9th place and regained the leadership of the Order of Merit that he had briefly conceded last week to Spaniard Angel Hidalgo, now in 2nd spot. Ludovico Addabbo, 22, from Rome, proved to himself he can hold his nerves under pressure and has all the abilities to compete at a higher level, as he started the day as 2nd and in the last group, and never lost his focus, with 4 birdies and just 1 bogey at the turn on hole 10, for a 69 (-3) and a total -14, two strokes better than experienced Frenchman Julien Foret, who dropped two spots and finished 4th at 204 (-12).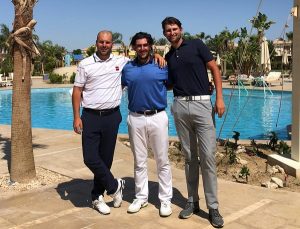 "I am super happy for this win", said Cianchetti, 25, who can boast two more success in Alps Tour tournaments, the first when still an amateur, in the 2015 Abruzzo Open, and the second in the 2019 Katameya Dunes Open in Cairo. "I didn't really expect it after the first tournament here where I missed the cut, but after the 62 in the opening round I gained a lot of confidence. It was a difficult day because I was a bit nervous in the beginning and I had a bogey 5 on the 2nd hole and a double bogey 5 on hole n. 4, but little by little I found my focus back and I managed to keep calm and play my game, so I started holing some putts and making some birdies, including four in a row from 11 to 14". The bogey 5, missing a short putt on the last hole was irrelevant as his margin was already comfortable enough to secure his third Alps Tour title and climbing the Order of Merit up to the 5th place. "Of course I like Egypt, as I already won in Cairo two years ago, and it is a bonus to share the podium here with two other Italian guys who are also friends of mine".
The Egypt Swing is now in the books. The Alps Tour schedule will resume next month in France with the 18th edition of the Open de La Mirabelle d'Or at Golf de La Grange aux Ormes, in Metz, June 11-13.
Click here for the Final results and here for the updated Order of Merit, or check on the Alps Tour Golf app.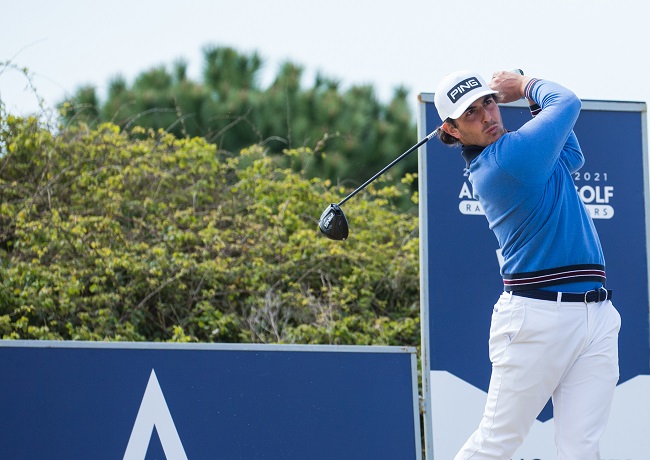 24th May 2021 | Alps Tour Golf
Italian Cianchetti still topping the leader board at -14
It was another good day at the office for overnight leader Luca Cianchetti. After sealing the new course record 62 (-10) yesterday at Sokhna GC (A+B courses), the Italian has kept the top of the leader board after adding a 68 (-4) in the second round of the Red Sea Little Venice Open for a total 130 (-14) and therefore gaining a comfortable 3-strokes margin over fellow compatriot Ludovico Addabbo and Frenchman Julien Foret, both sitting at 133 (-11).
"Today it was a bit more difficult for me, but I expected that", said Cianchetti, 25, who is attached to Bologna GC. "After such a good round you need to completely reset, and I think I kind of made it right. Even though I did not play as well as yesterday, I was able to make good use of any birdie chance I had. I have made a few more mistakes and three bogeys (on holes 1, 2 & 5), but on a positive note I closed with three birdies in a row in the last five holes (from hole 6 to 8). My putting was still decent today while my long game was more erratic than yesterday. Tomorrow I will need to reset it all again, and think shot by shot".
Julien Foret, 38, scored the best result of the day, a bogey-free 64 (-8) carded with 10 pars and 8 birdies equally distributed on front and back nine. "A good day for me obviously, where I could mark lots of birdies and, even better, no bogeys, which is always good news. I had the chance to hole many putts, and I think I have also taken advantage of the weather with my tee time at 8:10, as this morning it was probably less windy than the afternoon".
Ludovico Addabbo, 22, from Rome, is playing in his second season on the Alps Tour after gaining his card at the 2019 Qualifying School. Last season was a disappointing one for him and led to a return to the QSchool where he got a conditional card with category 8. After missing the cuts in the first 3 tournaments of the 2021 season, Ludovico has put his game on the right track and scored a 13th and a 14th place. Now, with today's round in 65 (-7) with one eagle, 8 birdies and 3 bogeys, he hopes to sensibly improve his record and fill that 3-strokes gap with the leader.
50 players made the cut at -1, including 8 amateurs. The final round will start tomorrow at 7:00, with the leader's team off at 8:28 from hole 1.
Click here for the 2nd round results or check on the Alps Tour Golf app.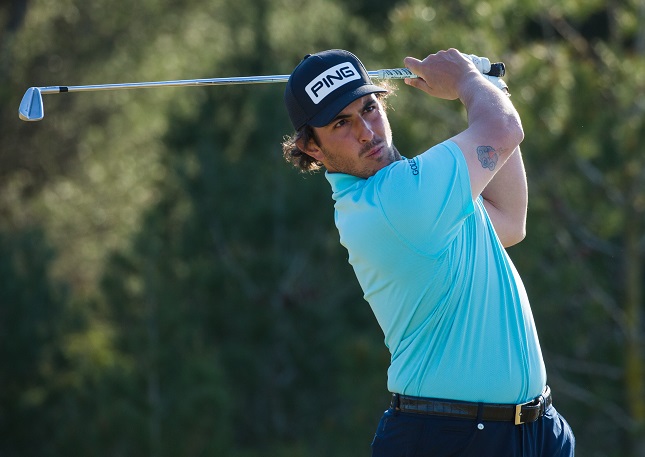 23rd May 2021 | Alps Tour Golf
Cianchetti leads with course record 62 (-10)
Only one day of rest after the end of the Ein Bay Open, just the time for some fine-tuning training and another Covid-test check for all – players, staff, caddies and coaches, all negative – and today the 120 contenders of the Egypt Swing went back to work with new energy to compete in the 9th edition of the Red Sea Little Venice Open, taking place on a different mix of the Sokhna Golf Club (the A+B courses).
With less aggressive temperatures than a few days ago, and a pleasant breeze from the North, Italian Luca Cianchetti grabbed the spotlight as he signed a new course record 62 (-10), with 8 birdies and 1 eagle, leaving his nearest contender – Spaniard Dani Berna – three strokes back, at 65 (-7), and Englishman Bradley Bawden in third position at 66 (-6).
"I made just one mistake today", said Cianchetti of his bogey-free round, "but it was on the good side, so I made a birdie anyway. I managed to keep calm and focussed the whole round, not getting caught up in the heat or trying to overdo it, I played my game and that led to a minus 10".
"I'm happy about how I've putted today, 28 putts in all, and from the tee I hit 10 fairways, which is good", said the 25-year-old from Modena, winner of the 2019 Katameya Dunes Open. "This season has started better for me than the last one when I did not play well and finished 46th in the Order of Merit, just inside the cut line to retain my card for 2021. I had a top-ten at the Abruzzo Open last month, and a couple of other good tournaments. I arrived here in Egypt trusting my game, but my putting was disappointing last week, and I missed the cut. Today I found back the right feeling with the putter and it certainly was the best part of my game, together with the long game as I was always pretty close to the pin – the longest putt I've made was from 7 metres. Of course, I did not expect to shoot 10 under, but I knew I was playing well and was just waiting for a good score, which obviously arrived today!".
A total of 54 players shot under par, and among them Swiss Mathias Eggenberger who made a hole-in-one on hole n. 9 (par 3, 186 mt) with his 6-iron, and with a total of 68 (-4) is sharing the 8th position with six more colleagues.
Tomorrow the second round of the Red Sea Little Venice Open will start at 7:00 and at the end of the day the top 40 and ties, plus amateurs within the cut line, will be admitted to the third, final round.
Click here for the 1st round results.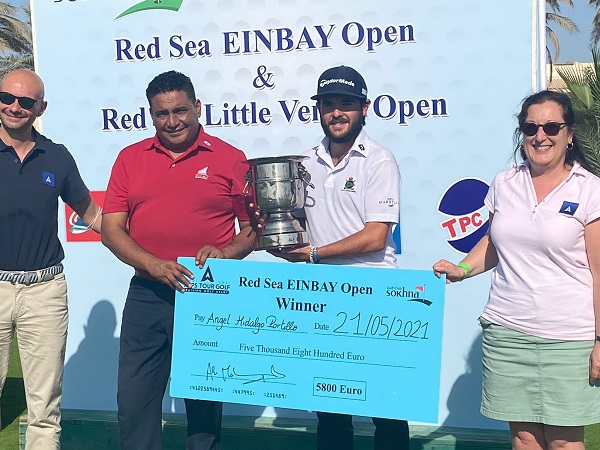 21st May 2021 | Alps Tour Golf
Spaniard Hidalgo grabs his first win at 2nd playoff hole
Angel Hidalgo's moment finally arrived, although he had to fight for two extra holes against Frenchman Pierre Pineau before celebrating his first win on the Alps Tour and raise the 2021 Ein Bay Open trophy at Sokhna Golf Club. "I am very emotional right now as I have been chasing this win for a long time and I was really looking forward to demonstrating to myself in the first place that I was able to win an international tournament as a pro", said the 23-year-old Spaniard from Malaga, who debuted on the Alps Tour in 2019 after winning the Qualifying School. "I started the day with a rather inconsistent game, in the front 9 I was missing all the fairways, but I was good recovering in the par 5's where I had two birdies, and my caddie Nico Colomer was helping me a lot the whole round giving me confidence. Finally, I started driving straight from hole n. 11, and I hit good wedges to the greens, we made birdies on 11 and 12, then a stupid bogey on 14, a couple of good pars saved on 15 and 16, on 17 with Nico we decided to take the risk and attack, and it turned out well with an eagle that brought me to -5 for the day, -15 total. On the 18th I drove in the rough and had a bit of bad luck with the lie of the ball, I hit a flyer and unfortunately carded a bogey; then the two playoff holes went well – a par and a birdie – and I'm really happy about the outcome".
On the first playoff on hole 18, both Hidalgo and Pineau missed their birdie putt, but on the second time, while Pineau found the rough from the tee, took a free drop and hit it over the green and went for a bogey, the Spaniard did not let his chance go and holed from about 3 metres for his final birdie.
"While on 2019, my first year on the Alps Tour, I played rather poorly, last year after making some technical changes I started having some results and although I did not win the Toscana Open last September – Matteo Manassero did – I demonstrated to myself that I was able to compete at a higher level, and I finished the season on 5th place in the Order of Merit. This year has started very well for me, with two 4th places in a row, and this week obviously I have been playing solid, too. The course is in great conditions, you need to adjust your putting a little because the grass is different over here, but I knew it as it is my third year, so it was no surprise. It was hot, no doubt, and that made things a bit more difficult for everybody, but you need to drink a lot of water – I think I've drank more water in these three days than in my entire life!!".
Four players have shared the third position at -13, Spaniard Jacobo Pastor (66 today), Irishman David Carey (66), Thomas Thurloway from England (67) and Matias Calderon from Chili (68).
"This win is for my grandfather, my inspiration" concluded Hidalgo, who is the new leader of the Order of Merit with 2.151 points more than Italian Jacopo Vecchi Fossa, now on 2nd spot. "I've been thinking about him all week and even wrote 'abuelo' on my ball, he definitely gave me the motivation to my success".
The Alps Tour remains at Sokhna GC for the second leg of the Egypt Swing which is going to start in only 2 days with the Red Sea Little Venice Open (May 23-25).
For the final results of the Ein Bay Open click here
For the Order of Merit, click here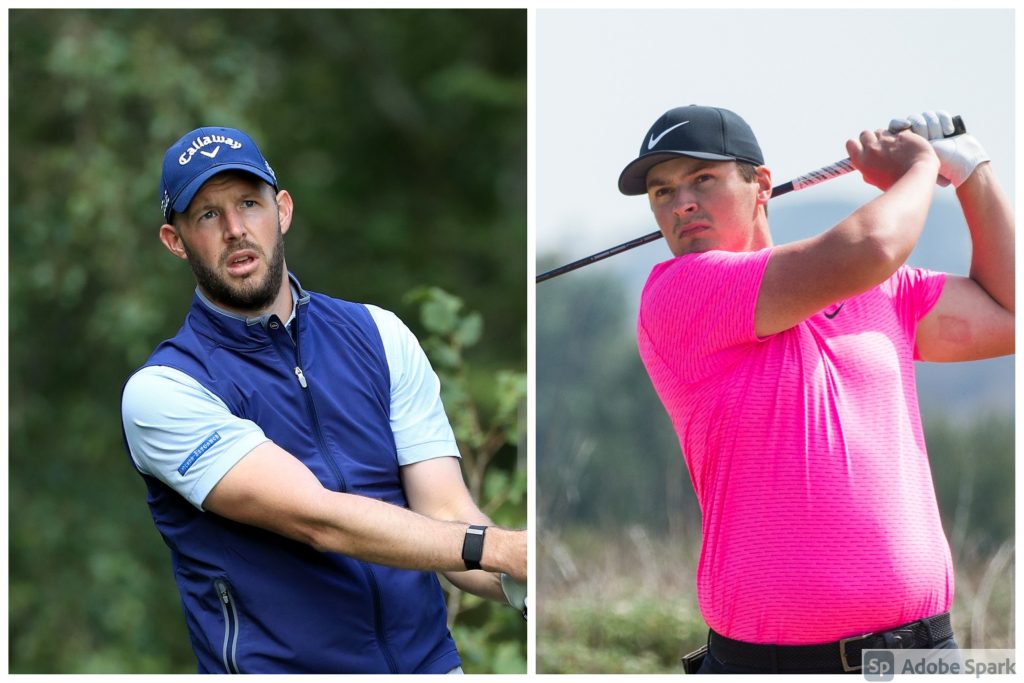 20th May 2021 | Alps Tour Golf
Ein Bay Open, Joy and Pineau take the lead after second round
There was a changing of the guards on top of the leader board after the second round of the Ein Bay Open at Sokhna Golf Club, in Egypt, with a new duo leading at 133 (-11). Frenchman Pierre Pineau and Englishman Luke Joy signed respectively cards of 65 and 64 strokes, therefore jumping up from 9th and 21st position. They will tee off tomorrow at 10:55 local time for the final round with a one-stroke margin over Spaniard Angel Hidalgo Portillo, first round co-leader, who has been joined in third position at 134 (-10) by Frenchman Xavier Poncelet, author of a beautiful 66 (-6).
Joy, 32, from Dorset, England, benefited from an invite to the Alps Tour Egypt Swing tournaments and made the best use of it by carding the lowest round of the day, a bogey-free 64 (-8) with eight birdies perfectly shared between front and back nine. "I'm incredibly grateful to the Alps Tour for the invite to these tournaments. I am very happy about the chance I have been given, and I absolutely love being here in Egypt. The course is in great shape, I must say that my putting was very hot today and the course definitely fits my game". Joy is an experienced player who turned professional in 2012 after a successful amateur career (he represented England Juniors), spends his winters training in Abu Dhabi and has won so far 8 Professional tournaments on different tours. While Pierre Pineau from Chartres, France, at 21 is one of the Alps Tour rising stars, playing in his second full season (last year he was stopped by an injury after only 2 tournaments) and finished 15th in the 2019 Order of Merit: "Obviously, it has been a good day for me, although I didn't start at my best; I teed off from hole 10 and the putt were not going in; but then at the turn, on 17, 18 and 1, I made three birdies with short putts, and another nice birdie on the last hole after three-putting on hole n. 8. The course is good, and yes, it's a bit hot out there, but it's not that bad!".
52 players including 10 amateurs made the cut, which fell at 142 (-2); among them stands out the name of Issa Nlareb, who finished his round with three birdies in the last four holes for a total of 141 (-3). The Cameroonian pro fell ill with bacterial meningitis in February 2018 during the Ein Bay Open; his life was saved, but the treatment for the septicaemia led to complications and the life-altering, partial amputation of some of his extremities. Last year, with prosthetics in place, the 30-year-old player, father of three, was back playing the tournament, declaring: "Even when I came out of the coma and couldn't talk, I never stopped playing golf in my head. Even lying in the hospital bed, I was constantly thinking about the little white ball. I think it is what kept me alive and what has given me the strength of will to play again today." Issa never stopped improving from that day, always showing an unbounded amount of positivity and extraordinary courage, and a lot of talent of course! In 36 holes, he marked a total of 8 birdies and 5 bogeys and tomorrow will play for his part of the 40,000 euros prize money and 45,000 overall points, with a cheque of 5,800 eu and 6,525 points for the winner.
For the results after the 2nd round click here or check the Alps Tour Golf app.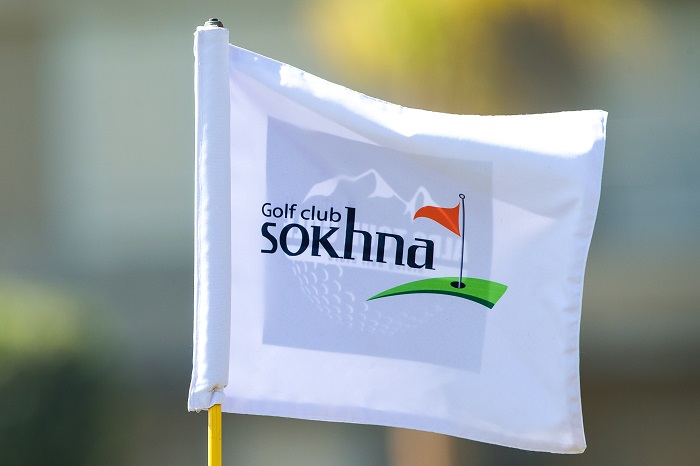 16th February 2020 | Alps Tour Golf
Alps Tour 2020 Season Swings into Action with the Egyptian Winter Series
Suez (Egypt), February 15, 2020 – As the Alps Tour celebrates its platinum anniversary in 2020, the twentieth season tees off in Egypt at the Sokhna Golf Club  with the Ein Bay Open starting on 18th February and the Red Sea Little Venice Open starting on 23rd February.
Located on the North of the Red Sea, just an hour's drive from Cairo, the Sokhna Golf Club features a 27-hole Championship Golf Course designed by John Sanford and Tim Lobb. It is the product of the merger of the 18-hole El Ein Bay Resort and the 9-hole Little Venice Golf Resort.
There are familiar faces and new ones among the field of 120 players from 19 countries and 4 different continents. Among the 114 professionals and 6 amateurs are some of the victors on the 2019 Alps Tour, notably, the Italian, Edoardo Lipparelli, winner of the Open de Saint Francois Region Guadeloupe and winner of the 2019 Order of Merit, here on a wild card. His countryman, Luca Ciancetti, winner of the Katameya Dunes Open is also present, as well as Irishman David Carey, winner of the Cervino Open and the Spanish player Gonzalo Vicente Elena, winner of the Fred Olsen Alps de La Gomera.
However, they will have some stiff competition from other experienced players and rookies eager to make their mark. All but three of last year's Alps Tour tournaments were won by rookies including the Ein Bay Open where Frederic Lacroix from France was victorious. He will not be defending his title as he has now gone on to play the Challenge Tour having finished third on the Order of Merit last year. Similarly, last year's Little Venice Open winner, the Englishman, Benjamin Wheeler, is absent this year so both titles are up for grabs.
Nothing would please Egyptian player Issa Abou El Ela more than to win one or both tournaments. He made his Mena Tour debut in October 2019 and will definitely be keen to shine on his home turf and follow in the footsteps of his father, Amr Abou El Ela, winner of seven Pan Arab Championships and one of the most respected names in Middle East & North African golf. The Mena Tour and the Alps Tour entered into a new partnership this year with the top five players on each being eligible to play the two circuits.
The Ein Bay Open will be played on Courses A and B a par 72, 6963 yards/6367 metres while the Little Venice Open the following week will be played on Courses B and C, a par 72, 6641 yards/6073 metres. The format for both is 54 holes of stroke play with the cut after 36 holes.
With the weather forecast to be warm and sunny the conditions should be ideal for the start of the new season and for the players to start sinking some birdies as this season sees the first player to achieve 240 of them receiving a 20,000€ bonus. Let the season begin!
Entries: click here
Stay tuned! www.alpstourgolf.com and the app « Alps Tour Golf » (on App Store for iOS devices and Play Store for Android) will keep you updated on every news about Alps Tour.
Instagram @alpstourgolf
Facebook @Alpstourgolf Satellite
Twitter @AlpsTourGolf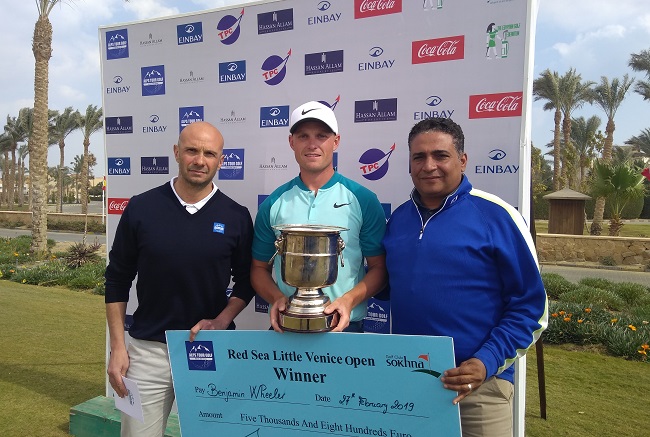 27th February 2019 | Alps Tour Golf
It's Ben's time, at last!
A par on the first playoff hole of the Red Sea Little Venice Open was enough for Englishman Ben Wheeler to finally catch the first title of his professional career, while Italians Enrico Di Nitto and Federico Maccario – leaders respectively after the first and the second rounds – both missed their second putts and had to settle for sharing second place on another quite windy day in Egypt.
The three talented players had finished their third round tied at -6 – with Di Nitto returning the best card, a 68 (-4) after a disappointing second round ; Maccario dropping one shot compared to the -7 he had on the previous day ; and Wheeler adding a 69 to the 68-73 he had on his records.
Maccario and Di Nitto have both already won Alps Tour events in the past, but on Sokhna GC course, at last, it was Ben Wheeler's time: « It's such a relief » he said, after holing a not-so-easy 3-ft putt, when his opponents had already missed from a slightly further distance for bogeys. « I had been close a few times, especially last year, so I was really waiting for this moment » he conceded,  « although I'm a bit surprised it happened in such windy conditions, usually I don't like them at all ».
Ben, 26, from South London, had joined Alps Tour back in 2016 having finished 6th in the Qualifying School, and collected 7 more "top tens" since; in 2018 he ended in 12th position in the Order of Merit, playing 15 tournaments and totalling about 12.500 points. Now, after two tournaments he has already 6.500 points to his credit – more than a half than last year – and shares the leadership of the OoM with Frenchman Frederic Lacroix, winner of the first tournament of the 2019 Alps Tour schedule, the Ein Bay Open.
Experienced Argentinian Rafa Echenique had the best comeback with a round in 66 (-6), made of six birdies and one bogey in the front nine holes, followed by two more birdies and a bogey on the back nine, and shared fourth place with Englishman Jack Clarkson, at -5.
The 50 players who made the cut could share a total prize money of 40,000 euros, with the winner cashing in 5,800 euros.
Next swing of the Egypt Winter Series will take place from March 25th to April 6th with three tournaments in a row played on three spectacular courses near Caire and the Pyramids, with a field of 132 players and a prize money of 40,000 euros each.
Latest Alps Tour Golf News